Feeling speechie
This year, the CF Speech Team has faced a series of challenges while competing virtually for the first time ever.
The speech season is now in full swing as the Cannon Falls Speech Team is preparing for their fifth tournament of the season. With only a month left before subsections, the team has finally hit their stride; after getting over the hurdles of learning to compete virtually, they are ready to focus on perfecting their performances. 
At last week's tournament, hosted by Red Wing High School, Cannon Falls won first place in the team sweepstakes, doing so with fifteen finalists and two category champions: Aizlynn Thim in Extemporaneous Reading and Emma Watson in Humorous Interpretation. Despite a few tech hiccups, the tournament ran smoothly. Lauren Ritz explained, "I thought the Red Wing tournament went pretty well. It definitely went smoother than some previous tournaments, and I could tell that they used all of the issues and adjustments from our first three tournaments to smooth out some of the bumps, especially in draw categories." 
The MSHS Speech League came up with a unique way to keep speech going virtually, using the already existing SpeechWire—originally made to keep track of rounds and rankings–to create NSDA Campus, an online virtual meeting platform that organizes whole tournaments. While NSDA Campus has worked smoothly, the team has gone through other tech challenges like trying to work out the right lighting and background, sound and video quality, and camera placement for competing. After a month of tweaking and observation though, Jessica Baszuro says they are finally getting it down."I think the team has figured out how to successfully compete virtually. As with all things that have to do with technology, there are always going to be hiccups and small issues that appear even when doing everything right, but the coaches and participants have done a great job of resolving them," she explained.
"
I think the team has figured out how to successfully compete virtually."
— Jessica Baszuro
Now the team is heading into mid-season, and competition is starting to get a little more serious, competitors are expected to go into round with speeches memorized, polished, and prepared. Draw categories are expected to be comfortable and confident with most of their potential pieces. Captain Trisitin Qualey from the Prose category said he was practicing his speech as much as possible, making sure he is memorized and ready as the post-season approaches.
The upcoming March 6 tournament, You Lucky Dog, is a much-anticipated tournament every year. The host of the tournament, St. Anthony Village High School, usually awards stuffed animal huskies in honor of the school's mascot, instead of medals or ribbons. And while they don't know yet if the coveted husky puppies will be handed out this year, the speechies are still practicing hard to win one.
One factor of a normal speech season many speechies still miss is socialization. Without a designated "camp" in between rounds, everyone is gathering in the hallways, six feet apart of course, to talk and socialize. But, as Baszuro points out, it's just not the same. Without the usual bus ride to and from tournaments, time spent together in rounds, watching each other in finals rounds, talking to people from other schools, and waiting for and sitting together during awards ceremonies, this season is lacking one of speech's most beloved qualities. The team is trying to make up for it though, as evidenced by a giant charades game played by the finalists after the final round last Saturday.
While the speech season this year is definitely different, the Cannon Falls Speech Team is learning to adapt. They've worked through the usual early season hurdles, as well as the new ones that come with competing virtually. Mid season means more intense competition and working harder than ever, but the team is persevering and prepared to face the rest of the season in typical speechie fashion, with confidence and business-professional style.
About the Writer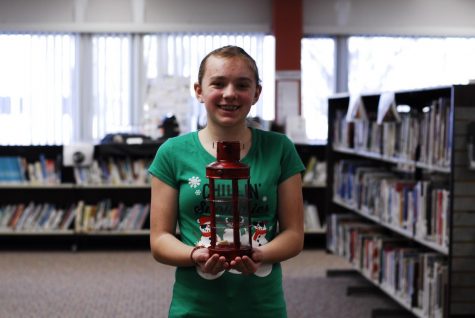 Teagan Strecker, Torch
This is 8th grader Teagan Strecker. She is outgoing, talkative, and nerdy. She likes to try everything, and because of that, needs to get her priorities...