Homecoming week at Cannon Falls High School has officially come to an end. There were events that took place all week but the two biggest ones that concluded the week were a girl's volleyball game on Friday at two o'clock in the afternoon followed by a boy's football game at seven o'clock on Friday evening. The volleyball game didn't exactly go as planned with the Cannon Falls Bombers falling to the WEM (Waterville-Elysian-Morristown) Buccaneers.
Despite the loss, the Bombers did not go down without a fight, taking the match to four sets. This year's Bomber volleyball team looks quite a bit different from last year's, with the loss of many important seniors; because of this, so far this season the team has played in many different line-ups, just as they did on Friday. One big takeaway from Friday's game, according to junior captain Karsyn Winchell, is that the team needs to "play together more." Playing together has been a very important part of the Bomber's game this year and the match against WEM really put an emphasis on it.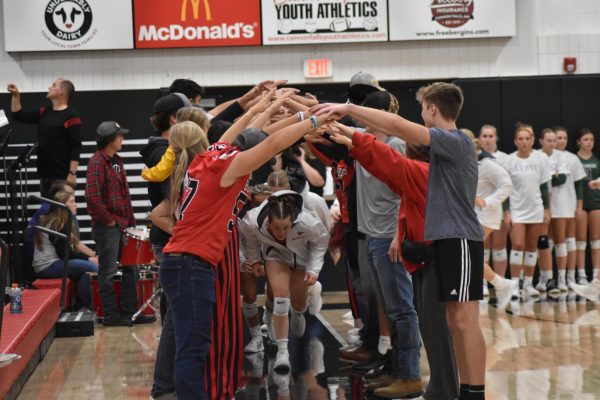 Besides what the team needs to work on, there were some good things that happened on the court, but what happened off the court, Winchell noted, was the best part. Winchell said that the best part was seeing the Cannon Falls community fill the gym. She explained there were about twice as many people at the game on Friday than at a typical game. After the volleyball match, many of the volleyball players were able to cheer on the football team who pulled off a spectacular win against the Pine Island Panthers.
The Bomber football team prepared for Friday's game at John Burch Park during the week with practices, team lifting sessions, film, and to top it off, a team feed where the boys could fuel up on carbs to give them sustainable energy for their game according to senior quarterback, Jackson Ekstrom. They showed up well prepared and confident. The Bombers started the game explosive and dominant in the first half, leading 36-0, and stretched that gap even further in the second half. 
During halftime, the cheer team put on a performance with youth cheerleaders followed by a routine of their own. Next, the homecoming court was announced. Each royalty member walked into the center of the football field accompanied by their parents where they stood in a line and were applauded by the community. The Bombers soon after made their way back on the field to warmup and stretch out for the second half. 
Just like the beginning of the game, the boys refused to give in to the Pine Island Panthers. The Bombers scored two more touchdowns and ended with a significant score of 49-0. The crowd was ecstatic with such a great win and congratulated the players afterwards. Ekstrom said it was a great way to end homecoming.