Getting into the groove of things
The girls basketball team has returned to the court, but not without having to make some changes to the season.
The Cannon Falls girls basketball team took the floor on Monday, January 4th, and things were certainly different. COVID-19 has greatly impacted the basketball season so far this year. Players and coaches are expected to be as safe as possible and remain six feet apart. This makes practice different with much less contact drills and always having to be more aware of your surroundings. Along with social distancing, every athlete is required to be wearing a mask correctly during practices, as well as games. Junior, Jaci Winchell, explains that it is not ideal wearing masks and wishes they didn't have to, but she hopes that in the near future, masks won't have to be worn anymore. Until then, she is going to do the best she can. After the first few practices and games, the masks have become less of a struggle for most of the athletes. 

"

I'm staying positive by not worrying about the score but more on our effort and how we have been playing together."

— Jaci Winchelll

Although this season hasn't had the best start — the team is sitting at a record of 1-4 — everyone is doing what they can to make it a good year. Cannon Falls basketball is a part of the gold division, which the team is somewhat new to and is considerably tougher than the blue division. The team had been a part of the blue division in years prior. With the constant struggle of low numbers, it has been fairly difficult to compete with the very talented teams in the gold division, but the girls are doing their best to keep their heads up. Winchell states "I'm staying positive by not worrying about the score but more on our effort and how we have been playing together." As a junior, Winchell has done her best to become a leader on the court and she most definitely has stepped up to the part. Senior, Makayla Bowen, just like Winchell, exclaims that she is doing what she can to make practice an enjoyable place to be. She continues to explain that because of the safety precautions and how the year has gone, she just wants everyone to have a fun season.

Winchell and Bowen are both immensely positive role models on and off the court just like most of the bomber girls basketball players. The girls basketball is growing and becoming a stronger program. Hopefully within the next few years the girls team will have a more successful season. The future of the program is very bright. The girls next game is at home on Friday, January 29th against Stewartville.
About the Contributor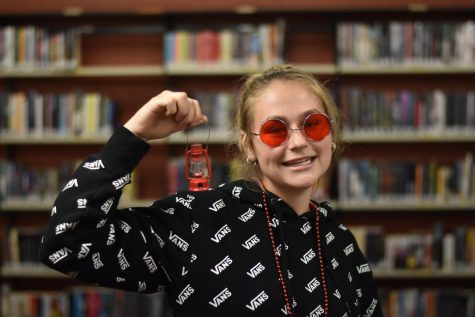 Belle Freeberg, Sports Editor
Hi, I'm Belle and I'm a junior. I play soccer and basketball and I'm a member of SADD and Interact. My go-to when I have free time is laying in my super...