I Have a Dream
On MLK Day, multiple teachers explained MLK's legacy to their students through a hybrid learning plan.
Martin Luther King Jr. Day has always been a time to commemorate the nonviolent fight for civil rights. While many organizations and businesses usually take this federal holiday off, what can be taught in schools regarding MLK's legacy is exceedingly important. This year, many of the teachers working at Cannon Falls High School utilized their class time to teach further in-depth about racial injustice endured both in the past and present day, doing so with accommodations to hybrid-learning. 
Unfortunately, when it comes to online learning, engaging students can be difficult as opposed to in-school. Nonetheless, many of the Martin Luther King Jr. lessons taught dug deeper than the simple "racism is bad" and a thank you, goodnight. Tom Langfeldt, a history and economics teacher, explained "I went from this into the lack of rights and opportunities available to blacks, and how this has played into socio-economic differences among races and ethnic groups today. I then looked specifically at some of the causes for blacks having a higher incidence rate for dying from COVID than whites."
Relating to the issue of COVID, it was found that black Americans are being vaccinated at lower rates than whites. Due to factors like access issues and inequality-driven mistrust, black healthcare workers are falling behind in receiving these vaccinations. This poses a substantial threat to marginalized groups as they are succumbing to this particular virus at higher rates than their white counterparts. 
Racism is not an issue of the past and is still very much prevalent in this day and age. That being said, various excerpts showcasing Dr. King's legacy apply to this day. Two examples of this include his iconic, "I Have a Dream Speech," and his Letter From Birmingham Jail, both of which are commonly presented to students across the country regarding this topic. 
The bravery of Martin Luther King is especially evident when considering the controversy facing the civil rights movement during that period. One powerful quote from his speech that many individuals associate with Dr. King is, "I have a dream that my four little children will one day live in a nation where they will not be judged by the color of their skin but by the content of their character." This line evoked emotional, heart-felt reactions from numerous citizens, both those in the audience during the March on Washington, and those in the present-day watching the recording off of a school-issued Chromebook. 
Dr. King's speech would go on to play an important role in the passing of the 1964 Civil Rights Act, one that would prohibit discrimination in public places and enforce the desegregation of schools. While racism is not entirely eradicated today, Martin Luther King Jr. made his dream of racial equality, a dream he shares with millions of Americans, closer to achieving. Even 58 years after his iconic "I Have a Dream" speech,  Martin Luther King Jr's teachings are not only ones that should be remembered on the third Monday of January, but ones that should remain vital to everyday life. 
About the Contributors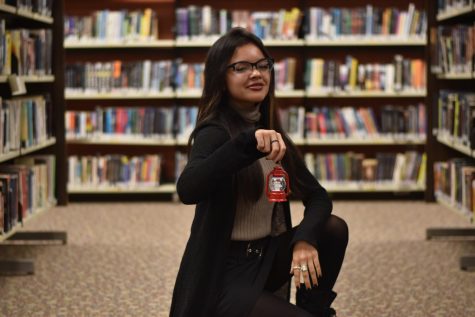 Tiera Meyer, Features Editor
Heyo my name is Tiera! I am a senior and an editor for the Features category. I enjoy video games, skating, writing, hanging with friends and family, kayaking,...
Aizlynn Thim, Editor-in-Chief
Aizlynn is a Zyia-obsessed, Red Bull dependent, midnight snacking, heap of awesomeness. She is a Senior Editor-in-chief who dearly misses her true home:...