Jazzing it up on the state stage
The Cannon Falls Bomber Dance team had a very successful end to their season, particularly in jazz.
It is the twenty-first consecutive year that the Cannon Falls Bomber Dance Team has competed in the state tournament. While the number 21 is an astounding statistic, this year, the dance team seems to be creating a new tradition—consecutive years of state participation in jazz—by making it the third year in a row Cannon Falls has competed in the Minnesota state tournament for jazz.
Prior to the state tournament, the Bomber Dance Team competed in the Hiawatha Valley League section final dance competition in Lake City. After competing, they received 2nd place in jazz, just falling short of Zumbrota-Mazeppa, which confirmed a spot for them in the state competition. 
Some of the big competitors that would compete against Cannon Falls in the state tournament would be Cathedral, Yellow-Medicine-East, and Zumbrota-Mazeppa.
Maddie Becker, a senior on the dance team, was ecstatic about performing, once again, at Target Center for the state tournament. "I was pretty excited," she summarized, "I think in jazz, I'm pretty in my element, so I don't get as nervous to perform at state for jazz as I do in kick. It's an amazing feeling and it's one of the best experiences."
Morgen Brandel, a junior on the Bomber Dance team, agreed. "Dancing on the state floor is a completely different feeling than any other competition. Usually, I freak out when I'm about to go on the floor, but at Target Center everyone is just excited to go and have fun because we've made it as far as we could go for the season," she stated.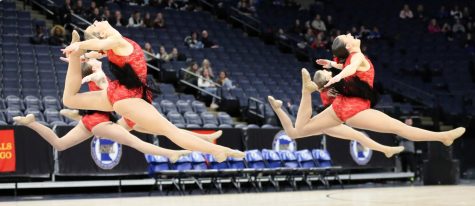 Leading up to their state tournament performance, Brandel claimed that the dance team has many traditions, such as a team bonding night. Not only are these traditions a fun way to spend time together, but they help the team get to know each other better and prepare them for their upcoming competition. "This year the team bonding night was going to Rancho Loco and a water painting class. Once we get to state, the night before we have our team meal at Pizza Luće and play some games in our practice room that night, such as fun Kahoots," Brandel mentioned.
But the next day, the fun and games came to an end, as it is time for the Bomber Dance Team to take the floor. After their first performance at Target Center in the preliminaries, Cannon Falls placed within the top six—sending them into the finals of the tournament. Hours later, they performed their jazz dance again, where the Bomber Dance team ended up receiving 6th place in the finals. 
Although the dance team may not have placed as high as they desired, they are extremely grateful for their opportunity to perform in the state tournament, let alone perform in the finals. 
"Being one of the oldest on the team, it was great being able to show the newer girls what a state experience looks like and how everything works with it," Brandel expressed with gratitude. As the only senior next year, Brandel will have to make some adjustments. She commented, "Next year will be a different experience, especially since I've always had at least Maddie to help me with things, so it'll be a learning curve. But I'm very excited."
After her many years of dance, Becker is leaving the program with numerous impacts. "Dance has opened up so many friendships for me. I absolutely love all of the girls and I think without dance, I would've never been able to have the relationship I did with a lot of them. I also think dance has given me more confidence in myself and has helped me learn how to be a leader, how to work hard, and how to work together with others," Becker explained. 
The Bomber Dance team, yet again, overcame adversity in the 2022-2023 season. Nevertheless, they now have an even greater motive to continue their consecutive years of performing in the state tournament— especially in jazz. 
About the Contributor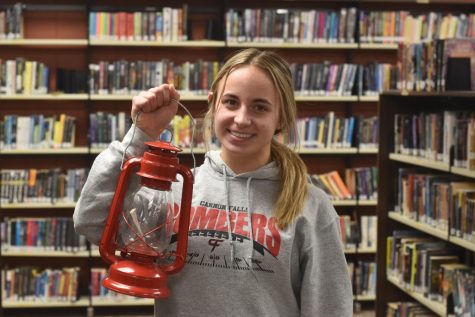 Kyra Schoenfelder, Sports Editor
Hi, my name is Kyra and I am a senior editor for the sports category! I play volleyball, basketball, and softball outside of school. I am also involved...