Short on staff
Businesses are closing as the post-COVID economy is desperately in need of workers.
If American citizens have been paying attention they will have noticed an abundance of help wanted signs hanging from or posted outside of businesses all across the United States. After in-person learning resumed and unemployment benefits expired it was predicted that the labor shortage due to COVID would significantly decrease by September. It is December now and that appears to not have been the case. According to a September survey by the National Federation of Independent Business, 51% of small firms say they have job openings that they are unable to fill. Also, the ratio of job openings to hires along with the rate at which workers voluntarily quit their jobs are at an all time high, according to the Bureau of Labor Statistics. We can see the impacts of this in Cannon Falls with many of our local small businesses struggling to find workers.

Right off of County 20, there is a Subway and a McDonald's right next to each other across from the Speedway. Both of these local fast food chains are examples of businesses that are understaffed and unable to find work. Last year during quarantine, businesses had to close down their sitting areas due to COVID restrictions, but a year later, McDonalds is still unable to open their lobby due to a lack of workers. Subway and McDonald's have also had to shorten their hours. On the McDonald's website, it says they are open till ten, but they've had to close the drive-through at eight on occasions when no one is able to work. Miah Barsness, a crew trainer and employee at McDonald's, claimed the rush hours are difficult saying "it is hard to get orders out in a timely manner." As a crew trainer, Barnsness also mentioned how very difficult it is to train people in because "there is so little downtime." With so few workers, employees are forced to work extra hours, and as a high school student "Teagan Strecker(Middle Ana) and Sonia (I don't know her last name) exchange a family hug.

"

Teagan Strecker(Middle Ana) and Sonia (I don't know her last name) exchange a family hug."

— Miah Barsness

."  However, it's not just chain businesses struggling, locally-owned stores are also being affected by the labor shortage.

Cannon Valley Specialties located in downtown Cannon Falls has also been struggling to cover shifts. High-Quality Bakery has been looking to cover several positions including "head baker, fryer, and assistant baker" according to Beth Barrett, an employee at the Bakery. The position of the dishwasher has been filled now at the bakery, but before the position was filled, employees had to do dishes while they baked, in order to stay on top of the huge mound of dirty dishes that were continuously piling up. Despite all this, Hi-Quality Bakery still fared better than a lot of small businesses. Emily's Bakery and Deli, a beloved family-owned business in Hastings, closed recently due to their inability to find any workers. This gave Cannon's Bakery more business. On the other hand, covering this spike in customers will be difficult with fewer workers. We can clearly see what the effects of the labor shortage are but what exactly is causing it?

Economists say changing demographics, like aging and retiring workers, are part of the shortage with many people choosing early retirement due to COVID, along with demands for better pay and flexible working arrangements. The most recent U.S Labor Department monthly Job Openings and Labor Turnover Survey released at the beginning of October showed there were 10.4 million job openings in August, while the number of people leaving jobs (the quits rate) rose to 4.3 million, the highest level seen in the past twenty years. The labor shortage also includes childcare providers. As a result many parents find themselves unable to go to work because there is no one to watch their children. 

The effect of COVID on businesses didn't end with quarantine, it has had a lasting effect on the nationwide labor shortage. We are currently seeing the negative effects of the labor shortage affecting both the chain restaurants and locally-owned storefronts in Cannon Falls. Not only are businesses hurting, so are the employees who are being overworked to keep up with the demand. It is unclear when the labor shortage will diminish and help wanted signs will be taken down. However, it is always important to support local businesses, and if someone is currently looking for a job, they won't have any trouble finding one close by.
About the Contributor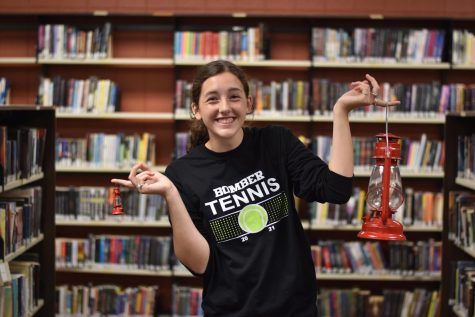 Lauren Ritz, Editor-in-Chief
Hallo vrienden! Mijn naam is Lauren en ik ben een EIC voor de Lantaarn. Ik ben eigenlijk geen Nederlander, hoewel ik graag een keer naar Nederland zou...