Leading by example
Four compassionate girls have been leading the Cannon Falls Bomber Dance team through the unknowns of a dance season during a pandemic this year.
With the 2021 dance season soon coming to an end, it's good to take some time to reminisce on all of the hard work put in throughout these past few months. Taking into consideration the current circumstances, the season was not exactly ideal. For athletes across the board, exercising in a mask isn't exactly a walk in the park. However, despite various obstacles, the Bomber Dance Team worked just as hard as they have in past years, but not without the leadership and guidance of this year's senior captains: Amelia Qualey, Emilee Burr, Anna Becker, and Lexie Bannitt.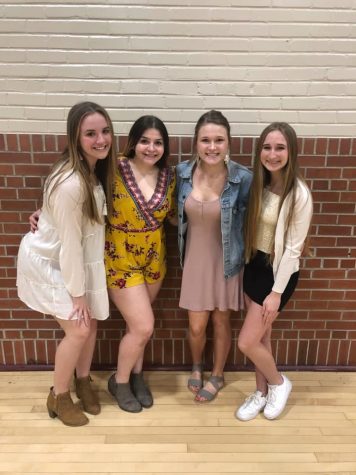 What exactly does being a captain entail? Many would argue that the qualities of a good sports captain include courage, leadership, and passion; these traits have been greatly exhibited by each of the dance captains, even when practice consisted of hour and thirty-minute-long zoom calls. Another obstacle during the BDT season was having to keep JV and Varsity entirely separate due to COVID, but still trying to keep everyone involved in team bonding activities. "You have to learn to bond with everybody, especially this year, including the JV because we are in different pods," Anna Becker, one of the senior captains of the dance team, stated. In order to make up for this loss, the captains encouraged communication via social media and reaching out to the younger girls on the team. Doing so helped the team to come closer together, even amidst the barriers, which is essential to ensure that the team works together efficiently. "It's hard, but I wouldn't have it any other way," Becker added.
As bigger competitions, such as sections, start to approach, the captains must work even harder to ensure that the team stays on top of things. It's just like they say: "Hard work beats talent when talent doesn't work hard," and with the effort and dedication shown at each and every practice, surely this is not an issue. 
"
The most important job of a captain, however, is acting as a great role-model for the other girls in and out of practice."
— Amelia Qualey
However, the job of a captain is not only limited to making sure everyone is putting in equal effort. "Being a captain comes with an assortment of jobs from leading stretches and workouts to deciding dress-up days for sections," one of the senior captains of the dance team, Amelia Qualey, explained. Dress-up days are utilized in practices leading up to sections, and using a portion of practice time to reward diligence is as equally as important. 
Captains have a lot of responsibilities when it comes to leading a team. "The most important job of a captain, however, is acting as a great role-model for the other girls in and out of practice," Qualey ends by saying. Whether it's leading difficult workouts or reaching out to make sure everyone is doing well, the captains have been working hard and doing a good job of it, an effort that will pay off as this year's dance season approaches its final weeks. 
About the Contributor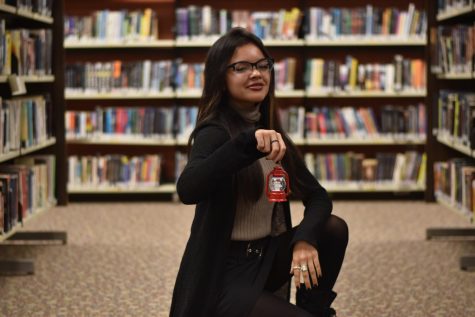 Tiera Meyer, Features Editor
Heyo my name is Tiera! I am a senior and an editor for the Features category. I enjoy video games, skating, writing, hanging with friends and family, kayaking,...