Les Miserables
Les Miserables graced the stage in the Orpheum over winter break.
Poking out of my stocking on Christmas morning, a piece of paper with a familiar black and white image of a young girl caught my attention. Quickly pulling the paper out, I discovered it was a ticket to the Broadway play, Les Miserables, playing at the historic Orpheum Theater in Minneapolis. I was ecstatic. Les Miserables, also referred to as Les Miz, has been one of my favorite musicals since I was 12. From the novel written in 1862 by Victor Hugo, Les Miserables has been turned into a Broadway musical and a Hollywood movie with phenomenal music.
Set in Paris and its surrounding towns between 1815 and 1832, this musical depicts the story of a recently freed criminal, Jean Valjean, a cruel policeman, Javert, a young woman, Fantine, her child, Cosette, and a French rebel, Marius. After a grueling 19 years in prison for simply stealing a loaf of bread for his starving family, Jean Valjean is set free in the very first scene. Being a criminal, he is treated horribly and is refused lodging everywhere he turns, so he decides to break parole in order to become an honest man. Eight years later, he becomes a factory owner, where he is the boss of Fantine, a poor woman who pays for her child to stay with an innkeeper and his wife. Fantine gets fired once they find out she has a child, causing her to be driven to the darkest depths of life. On her deathbed, she is found by Jean Valjean, who promises to adopt her child, Cosette. Despite Jean Valjean's good intentions to become a respectable man, the policeman Javert won't cease in his attempt to capture Valjean once again. The struggle between these two men is a constant theme throughout the story. In 1832 when Cosette is a teenager, she meets Marius, who's planning a revolt against the French government. Act II begins with the building of the barricade, leading into the battle between the rebels and the government, and it is followed by Jean Valjean saving Marius's life from the imminent defeat of the rebels. Les Miz may be filled with intense sorrow and despair, but it is also filled with redemption and love.
The story itself is powerful enough, but when it's being performed by professional singers, it becomes personal. It's as if I could physically feel the pain emanating from the actors on the stage. Nick Cartell (Jean Valjean) and Josh Davis (Javert) had astounding voices that left me in awe every time they finished a song. My mom, Nicole Miller, remarked that the song Bring Him Home was the most emotional part for her. "His voice was so pure and filled with emotion that I just got lost in the song," she stated.
For me, Empty Chairs at Empty Tables was the most heart-wrenching part. During this song, Marius is standing where he and his friends used to meet to plan their rebellion after they all had died during the battle. While watching it at the Orpheum, I had tears streaming down my face harder than usual due to how sincere the man playing Marius sounded. My mom has seen the musical 4 times (once with me and thrice on her own) and both of us have watched the movie numerous times. However, this rendition was the greatest version either of us have ever seen.
"
I've loved Les Miserables since I was in fifth grade, so it was amazing to see the show on stage"
— Emma Conway
Emma Conway, a junior, went to see the musical with her family as well. She remarked, "My favorite part was when the cast sang One Day More. I've loved Les Miserables since I was in fifth grade, so it was amazing to see the show on stage." However, the astounding singing wasn't the only thing that left an impression on her. Emma mentioned that the story helped prove that an individual's past does not define their character. "Anyone at anytime can turn their life around. I think that's what I love about Les Miserables. It instills hope in people. It reveals that anyone can be a good person," she reflected.
Not only was the acting and singing impeccable, but the set was beyond impressive. On both sides, there were sides of buildings with intricate detail that were able to move seamlessly for scene changes. Most of the props were mechanized as the buildings were, so set changes weren't as awkward as the other versions I have seen. During Javert's suicide, the effects from the screen behind him paired with fog and the moving bridge made it look like he was truly jumping off a cliff.
Leaving the theater once the final actors took their bow, I had the songs ringing through my head. Everywhere I turned, people were remarking on how flawless the performance had just been. It's astounding how some people can possess so much talent that they can leave a whole theater of people from all walks of life smiling and speechless. The movie will never be as great at I thought it was now that I've seen Broadway perform it live, however, it might be worth a shot to turn it on right now just to make sure I'm right… right?
About the Contributor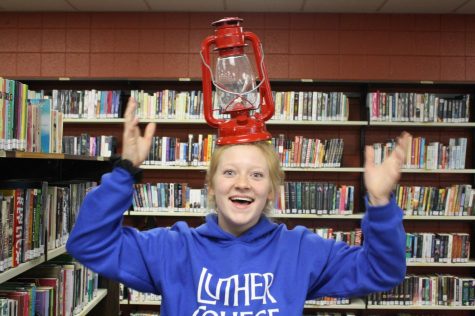 Laurie Miller, A&E co-editor
Laurie is a senior this year. She is a part of the Bomber tennis team and Northfield Raider gymnastics team. When she is not busying doing her infinite...