Making masks
Eighth graders have recently made and elaborately decorated plaster masks in art class.
After two years, 8th grade art classes are finally able to make plaster masks again. Due to the pandemic, The last two years of students couldn't create this project. Now that they are finally able to make masks again, it was noticeable that not many people knew about it, even if they had siblings. This might be because most of their siblings probably didn't get the chance to experience it or forgot about it over the past years. Now that 1st quarter is over, the students who took it that quarter most likely told the others about the masks but didn't explain much, leaving them in wonder.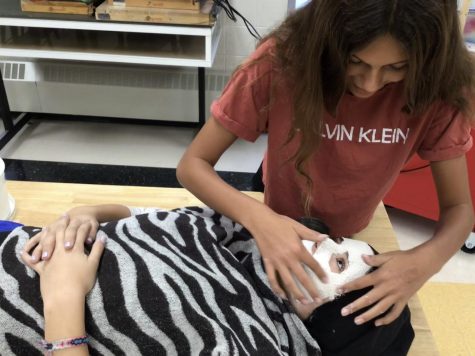 The masks project is the last project 8th graders do for art, and is probably one of the first trust-reliant projects for an 8th grader. To make a mask, the students first have to find a partner. According to the art teacher, Mrs. Hernke, the partner that is chosen should be someone they trust, because the partner will be responsible for the outcome of the project. Both of the people then choose who will go first on their mask being made. A quick tip from Mrs. Hernke is that the person choosing should go first. If their mask turns out horrible, then they can take revenge and make their partner's mask bad as well. Then, the class will learn how they're supposed to make the masks. The first partner will have to be the model for the mask. They will have to put Vaseline on their face to prevent plaster which is used to make it from getting stuck on their face. Then, they will have to put a towel over their hair to avoid hair getting stuck, and cotton balls in their ears. After doing so, they will have to relax, while the other partner applies plaster strips over the other partner's face. This partner will have to work quickly to prevent it from sticking. The person working must avoid putting plaster over the other partner's nostrils and eyes, or the worker will have to start over. Once all the plaster has been applied, the mask will have to rest on the model face for a few minutes to dry, and then taken off carefully which will be handled by Mrs. Hernke.
 Mrs. Hernke got this idea from her years in college and she did this as a project around 1989. After the project, Mrs. Hernke actually got inspired from it, "I loved this assignment and knew that I would do it with my art classes someday."  When teaching 8th grade art in Walsenburg, Colorado, she taught this project for the first time, and it worked out great. It wasn't until 2005, though, that this project was finally in motion for Cannon Falls 8th grade students. Some people may think they do it just for fun, but Mrs. Hernke actually uses it to teach many lessons. Firstly, she wants students to learn about trust and other cultures and more about them. She also does it to teach others to pay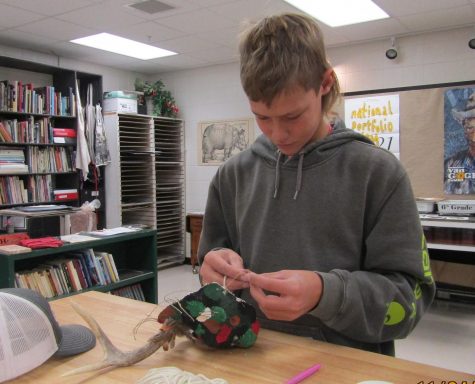 attention and use communication skills. Ms. Hernke shared her observations of the students while they are working, "It is very interesting how focused and alert students are when you start talking about not being able to breathe or getting plaster in their mouth." Lastly, she does this project because it can be really fun and result in a really cool piece of art. According to Mrs. Hernke, "The best way students can prepare for this assignment is to follow instructions, communicate with their partner and relax. It will all work out!" Students shouldn't feel nervous or scared about the project because even though it may seem a bit nerve-racking, it will actually become really fun. Student Cami Anderson did this project in 1st quarter and she loved it and thought it was a lot of fun, even if she liked one part of it more than the other, "I did although, like making the masks more than painting them."
Nearly all of the other students also really liked making them, even if this project was different from what they were used to. Just because it may seem scary or dangerous, doesn't mean that that should prevent someone from doing this project, because it may turn out as an exciting and fun experience. If someone ever gets the chance to create these plaster masks, they should take the chance and not miss out. If they don't, they could regret missing out on it, and wish that they could go back and take the opportunity.
About the Contributors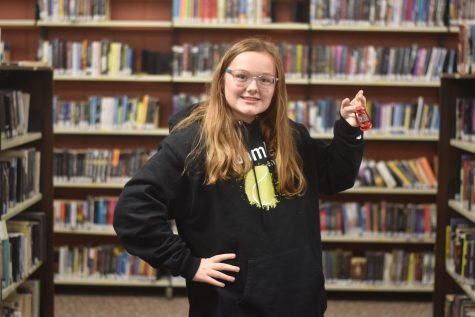 Cara Erickson, Staff Writer
Hello! My name's Cara Erickson. You might often see me invested in a book that may sound innocent until you actually see what I'm reading. I love to spend...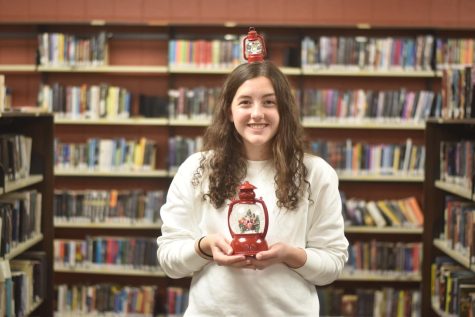 Lauren Ritz, Editor-in-Chief
Hi Everyone! My name is Lauren Ritz and I'm a senior editor-in-chief for the Lantern. When I'm not editing articles and cooking up graphics, I enjoy playing...