May 11 Covid update
Covid vaccines are continuing to be dispersed across Minnesota.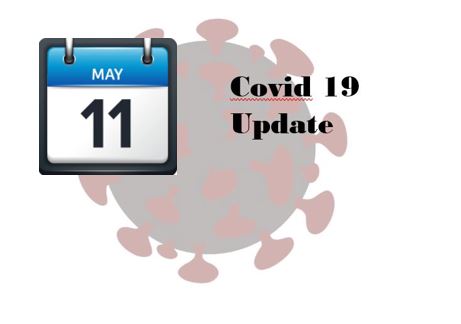 Summer is quickly approaching, and it brings more and more vaccinations in Minnesota. According to the MDH (Minnesota Department of Health), 2,651,747 people have at least one dose of the COVID-19 vaccine, with 1,140,832 people having the completed vaccination series, as of May 7. This means that 60.1% of those aged 16 or older have at least one dose. Of those, 48.5% have the completed series. Most of the people who are vaccinated are either aged 18 to 49 years or 65 years and older. There have been a total of 4.017,285 completed series of vaccines shipped to Minnesota providers, of which there are a total of 958 sites. Most of these are pharmacies and primary care clinics. The breakdown of which types of vaccines show Pfizer having the majority with 53.6%, Moderna next with 41.9%, and Johnson & Johnson last with 4.5%. 
On May 7, Cannon Falls Area Schools had 14 students and 2 staff members quarantined at home due to either close contact with someone who tested positive for COVID-19 or exhibiting symptoms themselves. In total since September 8, 2020, 84 students and 25 employees have tested positive for COVID. After a brief period of distance learning, students at Cannon Falls High School now have returned to a hybrid learning model for the second week. 
In Goodhue County, as of May 7, there were 189 active cases of COVID-19. Of those cases, 7 were hospitalized at that time. In total, Goodhue County has seen 4,735 cases, as well as 207 hospitalizations. There has also been a total of 72 deaths resulting from COVID. Throughout the county, 22,717 people have at least one of the vaccine doses, while 18,898 have both, as of May 7. 
According to the MDH, on May 8, there were 810 newly reported cases of COVID-19 in Minnesota. There were also 7 new deaths that were reported. Overall in Minnesota, there have been 587,762 cases of COVID. In addition to this, there have been 7,231 deaths and 30,937 hospitalizations. 
From May 2 to May 9, the CDC (Center for Disease Control) has reported 280,687 cases of COVID-19 throughout the U.S. In that same timeframe, there were 4,443 new deaths. In total, since January 21, 2020, there have been 32,481,455 cases of COVID and 578,520 deaths.