More than just a late bloomer
Nonbinary Christian artist, Grace Baldridge, has recently come out with a profound new album.
Semler (Grace Baldridge), Christian singer and musician, describes themselves as a "Folky, unholy, preacher's kid." Unapologetically queer and nonbinary artist Grace Baldrige, who uses all pronouns, utilizes her experience and trauma as a lense through which she creates a new flavor of Christian music. On the Christian music scene people that come to mind are overwhelmingly straight. In contrast, Semler's EP, "Late Bloomer" addresses LGBT themes with a folksy lightness that keeps viewers entertained. 
Semler makes a strong opening with "Psalm 103." The song refers to sins like drinking. Semler uses lots of metaphors and similes in his writing, that are similar to allusions found in the Bible. Biblical references throughout the EP bring the collection back to it's most important angle which is the queer experience within Christianity. Next comes a coming out anthem named "Prodigal Girl" with Semler asking a former lover if they regret the relationship. In the song, Semler refers to how the 'prodigal girl' sees Semler's sin without recognizing how he has accepted God into his life and found his own way. Next comes, "I'd Rather Be a Ghost." The song refers to common, uncomfortable emotions experienced due to dysphoria. In it, Semler describes how disheartening dysphoria feels, saying "what's a body but a cage…" and describing how being a ghost covered with a sheet is better than being seen in your real body. Once again this song harkens back to the nostalgic flavors of this EP, speaking to an undescribed character, a past or current lover. "Wanna Grab Coffee?" brings a more casual tone to the EP, asking introspective questions to herself about how she connects to Christianity. She finds her own view of religion, stating that God is forgiving because God knows religion is hard. Semler describes the difficulties she has experienced with religion, her fear for her soul, as well as how she combines the bitter with the sweet.
 Then comes "Late Bloomer." When I first listened to this song I found myself sinking to the floor to process. Memories of helping my Dad build a cross for the wall of my childhood church came rushing back. Every night before going to bed, giving myself a secret prayer, wishing to be like the other girls. I felt ostracized by other children in Sunday school who internally felt this oddness about me. I was a sinner, not because I didn't attend church as often as I should have, or because I read Revelations wrong aloud to my peers, but because of something I was inherently born with. I was gay. These feelings of shame filled my young soul every Sunday as my teacher professed unconditional love for those who accepted the Lord into their lives.
"Late Bloomer" as a song and as an EP, describes accurately and heartbreakingly the combination of shame and loneliness that comes with being a queer christian. In the song, Semler refers to seeing the sadness and hidden pain in her young eyes. She was underwater, much like other queer children. Shamed into silence, they either stunt their growth until college or reject of religion all together, all while contending with continued feelings of shame. The pain of leaving everything, including your culture as a Christian behind is unbearable and feels more than anything like a betrayal. After the pain, suffering, and trials, comes redemption from inside. I wish I could have been myself sooner, because I wanted more than anything as a young kid to escape from the life I knew. 
Finally, the album ends, not with pearly gates, but with a more bittersweet melody in the song "Hallelujah (In Your Arms)." It describes the growing pains, after blooming. Every LGBT person has to define faith and decide what it means after everything they have been through. The EP utilizes common sounds found within Christian music and allusions to faith combined with personal experience as someone who consistently sins by being alive creates a powerful and compelling message about the meaning of joy and expression as a LGBTQ+ person in a heteronormative world. After so many years of pain and suffering, wishing I could carve the sin out of my soul like a cancerous tumor, or creature, I have discovered that faith is the love within myself that I give to others. To my partner, to my friends, and to my family. Above all, this is what God means to me. And it couldn't have happened sooner; I'm a late bloomer but I'm better for it.
About the Contributors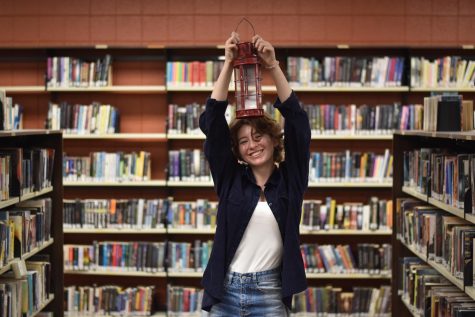 Bianca Caputo, Special Projects Editor
Hey ya'll! My name is Bianca Caputo, and I can often be found screaming at a ten year old iMac in an effort to not get fired. In the spare five seconds...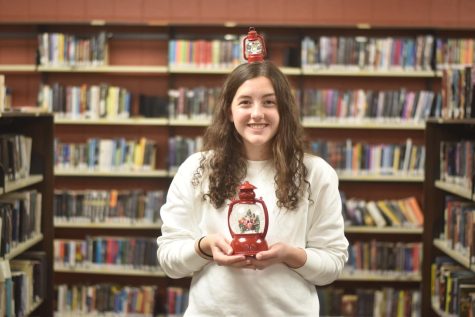 Lauren Ritz, Editor-in-Chief
Hi Everyone! My name is Lauren Ritz and I'm a senior editor-in-chief for the Lantern. When I'm not editing articles and cooking up graphics, I enjoy playing...