Musically motivated
After the CFHS theater department's most recent production, Footloose, director Vienna Qualey takes time to reflect.
The tasks of being a play director, including assigning cast parts and scripts, running and directing rehearsals, and organizing production schedules and team members, make for a very demanding job. Coordinating and taking on all of these roles is Cannon Falls theater director Vienna Qualey. 
Vienna's Qualey"s journey in the theater started in elementary school in the Prairie Fire play. She later became more involved in theater, and explains that "starting in 6th grade, I was in almost all of the shows through to my senior year." Although she has no intentions of performing again, she has since decided to take on the role of a high school director for the Cannon Falls school.
Her interest and knowledge of directing can be attributed to her high school director, as she says that"I credit most of my knowledge to my theater director in high school, Tania Legvold. The most valuable thing she taught me was the importance of relinquishing expectations. Nothing will ever be perfect, and the students feed off the director's energy. At some point, you have done all you can; you have given them the tools to be successful, taught them how to use them, and just have to trust them."
Qualey stressed the importance of being able to go with the flow during the musical. When asked what she has learned from being a director, she stated "Roll with the punches and use them to come back stronger. Also, the key to a good show is a selfless, determined, and united cast. (We are united against quick changes, btw.)" As Qualey learned important lessons while being the director of the play, including perseverance and teamwork, she also learned the vast differences between musicals and plays. "Directing a musical is a whole other ball game compared to a play," Qualey explains.  Musicals have a lot of moving parts to them, even more so than a play. Singing and dancing require a lot of energy, endurance, and skill. In my experience, musicals prove to be much harder." 
Grace Miller, a junior at CFHS who viewed the musical said that "the energy they exuded during their performance was simply infectious. I could tell that they built off of each other to create a really energetic show, and the director clearly played a large role in shaping that environment."
"
I hope to cultivate a successful theater program at CFHS
— Vienna Qualey
As Vienna Qualey has become director, she has also set many high standards and expectations for the future. "I hope to cultivate a successful theater program at CFHS, " says Qualey when asked what she is striving towards in terms of the CFHS theater program.  "I want students to develop a love for performing and become a larger presence in the community. I would also like to take steps toward developing a theater camp for elementary school students." Through Qualey"s leadership, she hopes to provide students with a foundation of skills, as well as passion and drive for theater. The duties that accompany being a director require a deal of hard work and dedication; something that CFHS director Vienna Qualey possesses in spades. As the theater program continues to grow, Qualey's guidance will provide a flourishing environment for many students. 
About the Writer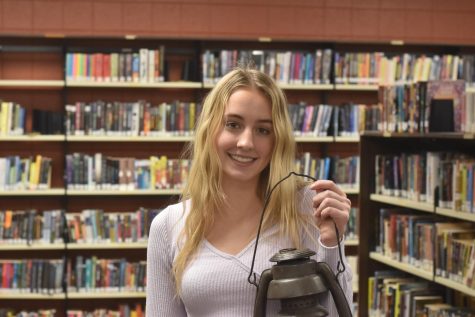 Maddie Becker, Features Editor
Hi, my name is Maddie and I am a senior editor for the Features category! I am involved in both the school dance team and the Shoreline dance studio in...