New year; new challenges
Cannon Falls staff are learning how to adapt to new school guidelines and routines that the coronavirus brings.
Back to school is a time filled with squeaky shoes, slamming lockers, smiling faces, and chatty students. Unfortunately, a lot of these school norms are going to be changing due to the coronavirus. Learning online, wearing masks, carrying a backpack, and keeping social distance are all part of the "new normal," a switch that is going to pose a challenge for all members of the building, especially teachers.
This year's class structure is going to be one of the biggest adjustments from previous years. Instead of having all students in the school building for seven classes a day, there will be eight classes split across two days with half of the school learning online each week. Having only four courses a day means that each class will be an hour and a half long as opposed to the traditional fifty-four minutes.
Many can agree that for teachers, the biggest challenge of the year will be combining online and in-person students. The ability of teachers to carry out classroom conversations is prohibited by lags and other technical problems with technology. In addition, students don't always have the equipment at home that is needed for classes like physical education or science. As Erika Szramek, a PE teacher, puts it, "The hardest part will be trying to get creative with my lessons and give multiple options for students to stay active while at home."
The hour and a half "block" classes are also going to take some getting used to. Although it will be different, many teachers are excited about this change. Heather Loeschke, a Social Studies teacher, is among them. She affirmed that "I think block is great for allowing teachers to dive deeper into content and explore some ideas for a longer period of time." Though some aspects of the longer periods will be helpful by allowing teachers to cover more material and give lessons without being rushed by the clock, the long classes can also make it difficult to keep students engaged. Most high schoolers would agree that almost any class over an hour would get boring. So, teachers are still working to break up their classes by covering different topics as well as giving students little breaks throughout the period to break up the monotony of listening to a lecture.
Bianca Caputo
Tyler Quinlan, a Math teacher at CFHS, has used the new schedule to completely revamp his teaching style by creating a "flipped classroom". The flipped classroom consists of a video lesson that students watch and take notes on before class. After this has been accomplished, students use all of their class time to ask questions, work on assignments, and complete activities. "It's a big change, but one that I think will help students a lot," Quinlan stated.
Overall, 2020 has brought a plethora of challenges to America's schools; however, teachers are working hard to give students the best possible classroom experience, even if they aren't actually in a classroom.
About the Contributor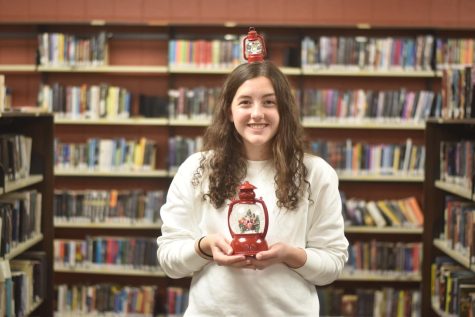 Lauren Ritz, Editor-in-Chief
Hi Everyone! My name is Lauren Ritz and I'm a senior editor-in-chief for the Lantern. When I'm not editing articles and cooking up graphics, I enjoy playing...