No place like home
Rising country music star Caitlyn Smith gives a concert in front of a home town crowd in the CFHS auditorium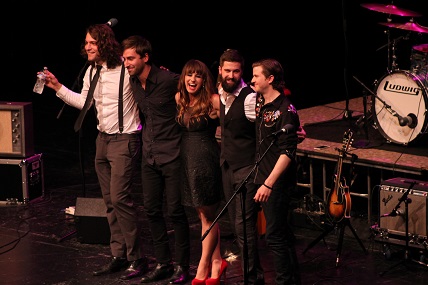 Hang on for a minute...we're trying to find some more stories you might like.
On May 16th, the CFHS auditorium was packed with anxious fans that chattered excitedly as they waited for the Cannon Falls native – turned country music star, Caitlyn Smith, to appear on stage.
Caitlyn Smith graduated from Cannon Falls High School in 2004 and instead of the path to college that many of her fellow graduates took, she picked up her bags and moved to Nashville in hopes of becoming a country music star. "I don't think I ever really allowed myself a backup plan," Smith admits, laughing. "I gave myself no other option except to work really hard and make what I wanted to happen, happen." Caitlyn started booking her own gigs when she was still a student at CFHS, playing in churches, bars, county fairs, and coffee shops. She even recorded an independent album when she was just fifteen. Now at 29 years old, she has just released her very own EP album, Everything to You, which is now gaining national attention and climbing up the charts. Radio.com also dubbed Caitlyn as one of the top female artists to watch for in 2015.
But before all of her success as a singer, Caitlyn was a songwriter. She wrote "Wasting all These Tears", a chart topper sung by Cassedee Pope and "Heart of Dixie" along with many other songs. She laughs as she says that she used to spend hours up in her room throughout middle school and high school writing poems and songs.
Smith, despite her immense success as a songwriter and an artist in Nashville, continues to be humble and have strong roots here in Cannon Falls where she grew up. "I was very involved in band, drama, choir, and jazz choir," Caitlyn says. "Really anything that had music I could do, I was in it." She also says that she was very involved with the speech team- with our very own Mr. Fogarty as her coach. She says that Nashville is wonderful and wouldn't trade it for the entire world but sometimes even country stars get homesick. "Living in Nashville is sometimes really hard to be so far away from your family," Smith admits. "But it always feels so good to come back."
Caitlyn stepped out on stage, deliberately wearing the red and black Bomber colors, and then proceeded to put on a concert that had an incredibly intimate feel to it – almost as if she were performing in a living room full of family and friends. She broke out with the high energy and empowering song "Grown Woman" that had people swaying in their seats, and she sang a sweet ballad to her husband called "Everything to You". It's no wonder that Caitlyn is gaining attention as an artist because of her strong vocals and incredible stage presence that has the ability to captivate the audience and pull on their heartstrings.
Maggie Chapman, an artist who is only eighteen years old, also joined Caitlyn on her homecoming to Cannon Falls as the opening act for the show. Chapman's haunting voice and superb writing talent had Cannon Falls in the palm of her hand. She told the audience that it was extremely special that Caitlyn brought her to her hometown and showed her around the high school because Maggie was homeschooled for most of high school because she started to pursue music as a career.
After the concert, both Maggie and Caitlyn sat out in the atrium and signed CDs, shirts, and albums while talking to their many fans and friends. "Coming home is always the best," Caitlyn said with a smile. Although she is now living in Nashville there is no place like home and for Caitlyn that will always be Cannon Falls.
About the Contributors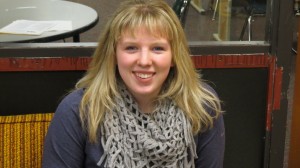 Kellie Lawless, Staff Writer
Kellie Lawless is a Junior staff writer and writes Arts and Entertainment reviews, focusing primarily on music. When Kellie isn't writing for the Lantern,...