Overcoming hurdles
The Track Team has had a strong start to this season despite the last two out of the ordinary years.
This track season, like most of Cannon Falls's spring sports, started off slow. Around the time when meets were supposed to start it started to get rainy and cold causing meets to get canceled. Now that it is getting warmer and nicer outside the track team has been able to get into the full swing of things. They've started practicing outside consistently again like last season and they've been able to have more meets. The meets consist of many different events to suit many different types of people. 
Brett Zimmerman is the varsity head coach for both girls and boys. He says that their weakest girls event is the distance events because they lack girls. However, on the boys side of things, he says they are pretty well rounded so they really don't have too much of a weak point on the boys team. But this doesn't come as any concern to coach Zimmerman as he says so far it is looking good for post-season hope for both the boys and girls team. He also believes that they may be able to send a few individuals to State this year. This year, track was changed into a three class system, which puts Cannon Falls in class AA. With this change in class, coach Zimmerman didn't really know what to expect, he said "we find ourselves in uncharted territory." So far, this year as a team they've been in the middle of the pack, but coach Zimmerman still has confidence the post-season will go well.
As we have been moving into a later stage of the pandemic, this season has been a bit more normal compared to last year. First, this year runners don't have to wear masks at practice or at meets. Second, after school practices are more like they used to be because last year, during hybrid learning, students had to come into school from home whereas this year almost everyone is at school already. Like in the past years Cannon Falls and Randolph have a combined track team, so Randolph students still have to get a ride to come to Cannon Falls but the number of runners coming in after school from last year to this year has decreased significantly. Lastly, at the meets more teams have been able to attend. 
Senior captain Conner Loeschke says that his favorite part of this year so far has been meeting people from other schools at meets. The track team is excited to be back to a more normal season and run in meets in hopes of sending as many people as possible to state.
About the Writer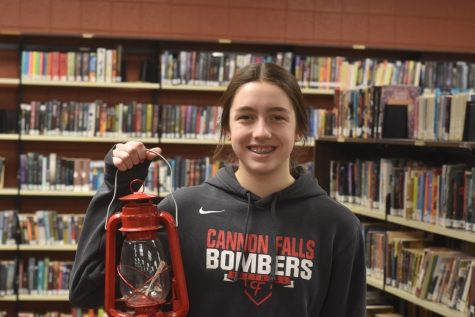 Anna Ritz, Staff Writer
My name is Anna Ritz and I'm in 10th grade. I'm a sports writer for the Lantern and I play volleyball, basketball, and softball.