Pandemic tricks, halloween treats
This year, Halloween may look a little different, but trick-or-treating won't have to stop.
Every October, stores all across America begin to load up on faux skeletons, plastic pumpkins, elaborate costumes, and most importantly, lots of candy. All of this is in preparation for the scariest holiday of the year, Halloween. While some use Halloween as an excuse to dress up as Disney princesses, others seize the chance to horrify their friends and family with gorey masks or sit down and enjoy watching "It's the Great Pumpkin, Charlie Brown," a timelessly wholesome family favorite. Although all of these activities are fun, they still aren't quite as popular as the most iconic Halloween activity: trick-or-treating. Typically, this autumn tradition consists of children going door to door asking for sweet treats, but, due to COVID, the exposure that comes along with passing out candy poses a threat to young candy collectors, as well as their older counterparts who are supplying the sugary confections. 
COVID-19 has already changed the way we learn, work, travel, and interact with others. Does it have to change the way we celebrate Halloween as well? Not necessarily. Bobbing for apples is no longer a safe pastime, but the trick-or-treating can continue. 
Obviously, there will have to be some alterations, the most simple of which is to just wear a mask. This won't be too much of a change from our "new normal," and there is no better time to wear a mask than at Halloween. Many trick-or-treaters are already wearing masks, and though a cool skeleton mask won't protect anyone from viruses, the transition to a decorative cloth mask is relatively simple. Already manufacturers have begun creating masks with everything from skulls, to pumpkins, to Wonder Woman graphics perfect for Halloween heroes. While some other alterations may be needed, this is the most simple way to keep a beloved tradition safe for everyone involved.
Additionally, the CDC recommends that all trick-or-treaters social distance while they are out collecting candy. It is also recommended that kids wash their hands or use hand sanitizer in between stops and when eating the candy. As for candy providers, the CDC suggests avoiding direct contact. Wearing a mask, social distancing, giving away treats outdoors, setting up stations with individually bagged goodies, and washing hands frequently are all ways to do this. However, Shelly Ritz, a pharmacist of 17 years, points out that "Handing out candy to somebody at the door is minimal exposure. You could even do it without a mask; your exposure to them and their exposure to you is going to be all of about 10 seconds. Studies show that you have to have over 15 minutes of exposure to potentially infect somebody." Though Ritz isn't worried about spreading COVID, she still plans on wearing a mask when handing out candy, as well as not letting kids reach into the candy bowl, which could become a breeding ground for unwanted germs.
Ritz isn't the only one concerned about what might be lurking on the candy itself. Recently, the idea that parents should sanitize all of their children's candy has taken flight. Many health experts believe this to be unnecessary, instead suggesting that those who are worried should simply let the candy sit for at least 48 hours, so that viruses on the wrapper will die in time. CFHS sophomore Lydia Pedersen understands this idea, but still supports sanitizing candy, stating that "Studies have varied on exactly how long COVID-19 lives on surfaces, but they all agree that it can last for many hours. As ridiculous as sanitizing individually packaged treats sounds, it makes a lot of sense."
Precautions taken to prevent the spread of COVID on Halloween will vary greatly from family to family, but, if the proper steps are taken, trick-or-treating will remain a safe and fun activity that is relatively unchanged by the pandemic. 
About the Contributors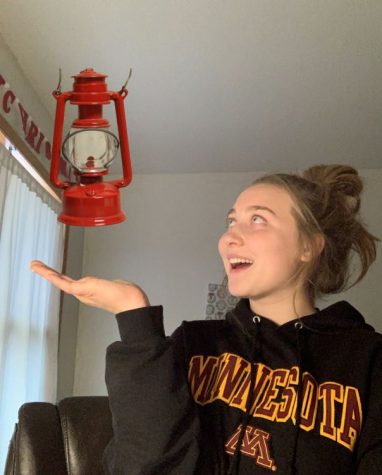 Makayla Bowen, Media Editor-in-chief
KK is a mad scientist. She works with all sorts of dangerous colors to make masterpieces far more impressive than the infamous Dr. Doofenschmirtz. Her...