Right on track
CF boys' and girls' track teams jump into a new season
Finding the blessed pleasant weather reinvigorating, the Cannon Falls Track & Field Team hopes to hit the advent of the season full stride. The team had three meets this past week, including the inaugural home invitational. The Bombers women's team took third place at the contest, while the men brought home fourth.
Leading the charge on the home turf for the men were jumpers and relay teams. Triple jumper Beau Rueger and high jumper Alex Bultena, both seniors, soared to fourth and third place finishes in their respective categories, inching their way towards school records in the process. Zach Holes, Luke Dubbels, Beau Rueger, and Gus Foss ran a 4×100 meter relay well enough to secure a fourth place finish. A 4×400 meter relay team consisting of Kyler Banks, Dubbels, Beau Rueger, and Chase Jacobsen finished third to conclude the competition.     
On the women's side, sophomore Katherine Hoffman ran away with the 1600 meter run, winning the event with a time of 5:13.49. Hoffman also headed a 4×800 meter relay team that earned second with the aid of Amanda Wulf, Annika Thomley, and Payton Cooper. Sophomore Brooke Hogan leaped to second place in the 110 meter, and again in the 300 meter heat. Also placing second were Allison Egge in the discus toss and Mada Hofstedt in the long jump.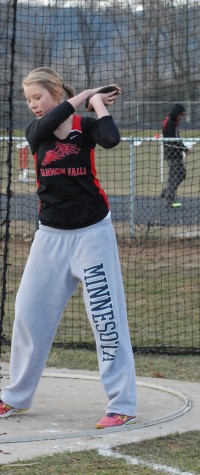 The men's squad has multiple returning seniors, as well as a determined underclassman group. Gus Foss, Zach Holes, Karl Ritzman, Alex Bultena, and Beau Rueger are expected to put the Bombers on the boards often this year. "It's truly shocking how fast we are coming together as a team," praises Captain Zach Dockter. "On and off the track, I see guys stepping up to the plate. Whoever they are – rookie runners, recruits from Randolph, or the returning veterans -it is nice to see the guys kicking up rubber this early."
The Bomber women's track lineup once again enjoys large numbers of eager participants, and uses their depth to produce strong showings at meets.  Leaders on the women's team include returning state champion distance runner Emi Trost, Brooke Hogan, Kelsie Beissel, Katherine Hoffman, Mada Hofstedt, and Allison Egge. "We are missing some top-tier runners due to injury, and that always stings points-wise," states women's coach Brett Zimmerman. "However, the younger girls are very willing and able to step in."
After season's difficulties, both teams are showing signs of enlivened dedication. If hard work does indeed beat talent, expect these athletes to make a splash come sections.
About the Contributor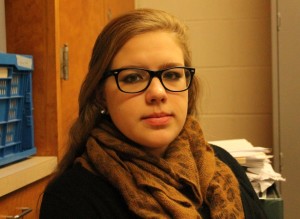 Mary Franz, Lantern writer/photographer
Mary is a writer and photographer for the Lantern.  She is involved with musicals, one-act plays and the speech team.