Final farewell, adventures await
Former Administrative Assistant Robin Nelson concludes her 18 year career at Cannon Falls High School
Over the past 18 years, whenever anyone stepped into the Cannon Falls High/Middle school office, they were met with the friendly face of Robin Nelson. But now, a week into the school year, Nelson will be absent from the desk as she journeys into retirement. 
Before she worked in Cannon Falls, her job was at American Express, the credit card company. After that, she finished the rest of her professional career here, with the high school students.
Over her years as an Administrative Assistant, Nelson got to know the students and watched them grow from timid sixth graders to seniors off to conquer college. She helped with office work and often sent out the daily announcements for the school. Her favorite memories are centered around the students. "There are so many of them [memories]. I've had so much fun with the kids over the years," she stated. There are many reasons why students visit the office, whether it's handing in notes, checking themselves in or out of a class, visiting the principal, waiting to be picked up, or just asking a question. Nelson was a constant, familiar face and was willing to help with any of these issues.
"
"There are so many of them [memories]. I've had so much fun with the kids over the years.""
— Robin Nelson
Outside of her job, Nelson particularly loves spending time outdoors, whether it's gardening, golf, or her recent passion for hiking. Nelson also purchased a home to winter in Arizona, a vastly different climate than the one she is used to here in Minnesota. Once down there, she hopes to continue her favorite pastimes, and as she said, "just have fun… we are going to explore the southern half of the country and we are going to do whatever we want to do." Before she goes, however, she has a few house projects to wrap up, so she won't leave Cannon Falls quite yet. 
Not only did Nelson offer guidance to students, but she also absorbed knowledge herself. "Parents should never lie for their children. It's a bad, bad thing because we always know. They aren't fooling anybody!" Among many, this was her favorite takeaway, she said, met with a hearty chorus of chuckles from all of the office staff. More seriously, though, she emphasized how much she enjoyed the company of the students: "All the years, I've learned a lot. I've had a lot of fun with kids and it's really been a lot of fun. It's been my 'fun' place to work." 
She also made a big splash in the work lives of others in the office. Saffron Emerson took over Nelson's role as an Administrative Assistant a few years ago. Her impression of Nelson was positive, saying that she was "fun, friendly, strong, [and] no nonsense. She taught me all the aspects of the office.  Being able to multitask/triage is a must when it gets busy." It is clear that Nelson had a monumental impact on those she interacted with, whether it was her coworkers or the multitude of students that pass through the office daily.
"
"She taught me all the aspects of the office.""
— Saffron Emerson
Adorned in a retirement sash, she left her final statement to summarize her many years at Cannon Falls Middle/High School: "When I look back on working here, I just really enjoyed all the kids hanging out and coming into the office." As she moves on to retirement, students and staff alike wish her the best as she goes on her next adventure.
About the Contributors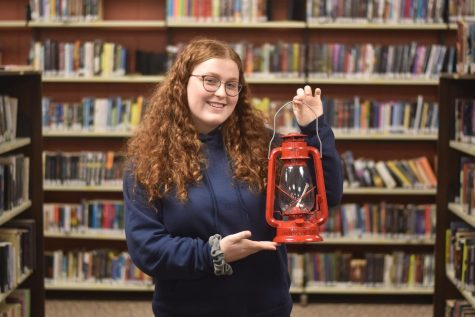 Grace Miller, Editor-in-Chief
Salutations! I am Grace Miller, one of the editors-in-chief for the Lantern. I am heavily involved in FFA and speech but my true calling is cherishing...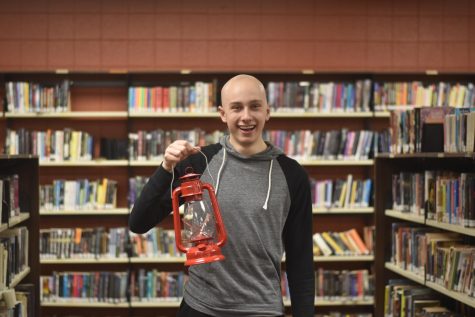 Nathan Baszuro, Media Editor-in-Chief
This is Nathan Baszuro's sixth and final year on The Lantern staff. When Nathan is not stressing about schoolwork he is often watching movies with his...