Scoring more than before
The Bombers girls basketball team have suffered some devastating losses so far this season, but they are optimistic for their upcoming games.
The winter sports season has started up once again and the Bomber's girls basketball team is back at full speed. This season for the Bombers has gotten off to a rocky start. So far, the team's record is 0-6. 
To kick off the season the Bombers first played the Stewartville Tigers and lost. Then, the teams headed to Randolph where they fought a hard battle against the Rockets but again lost, but this one was a bit closer. The very next day they were off to Lake City where they took on the Tigers. At the end of regulation, the score was 51-51 which sent the game into overtime. In overtime, the Bombers ended up losing 56-53 but it didn't feel quite like a loss, as last season in playoffs, the Bombers got blown out in the first round against the Tigers. The battle with Lake City was a good boost of confidence for the
girls. However, the next week they lost to the Goodhue Wildcats, who are ranked i
n the top ten in the state for class AA. They then played the Chatfield Gophers and just narrowly lost. Most recently they played the Zumbrota Mazeppa Cougars where they lost but put up quite a battle.
Although this season hasn't started out quite like anyone had hoped, the Bombers still have high hopes for upcoming games against St. Charles and Medford. Every day after school the Bombers have been in the gym practicing. Coach Joel Rustad stated, "The biggest emphasis in practice this year has been how to handle ball pressure." In their first game this season against the Stewartville Tigers the Bombers had a staggering number of turnovers, since then though, with all the practice on ball handling and ball pressure, that number has gone down significantly. This has helped them in some of their closer games which would have been a different situation without the emphasis on ball handling.
This year there are only three seniors on the team, Taylor Johnson, Kyra Schoenfelder, and Izzy Pagel. Having such a young team this year has been a challenge, especially on offense, but Coach Rustad believes that "once our offense catches up to our defense, we are going to be tough to beat." 
So far this season Rustad has been very happy with the team's defensive performance
so the last piece is to score some more points, their biggest struggle. Although they haven't won a game yet, Johnson mentioned that in spite of the losses so far, this season has gone well and the team has shown improvement from last year.
About the Writer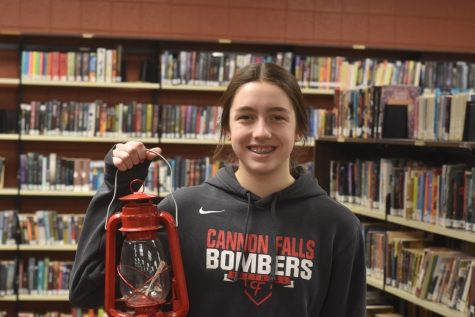 Anna Ritz, Staff Writer
My name is Anna Ritz and I'm in 10th grade. I'm a sports writer for the Lantern and I play volleyball, basketball, and softball.