Share the love
Student Council sold Rafiki bracelets and Crush Cans for Valentine's Day.
Last week we celebrated Valentine's Day, either one of most anticipated days for couples or one of the most dreaded days for those who are single. Whether you're a Valentine's Day scrooge or not, we all seem to have made it through the candy-filled holiday. While couples displaying all sorts of public affection, our Cannon Falls student council had a different idea of how to spread the love.
For the week leading up to Valentine's Day, Crush cans were being sold during the high school lunches in concessions. Anonymous students could purchase a certain flavor of Crush to be given to their Valentine. On February 14th, the wonderfully controversial Valentine's Day, around seventy students received either a grape, strawberry, or cherry Crush pop from a secret admirer. Student council members passing out these little presents of love during first hour caused a great start to so many people's day. Not only were these pop cans a way of showing V-Day love for fellow Cannon Falls students, but it was also a way of helping the student council sponsored charities and the scholarships at the end of the year. As opposed to last year's meager 20 Crush cans sold, this year there were 71 cans sold, raising $140. That's 350% more profitable than last year. As stated by Molly Bowen, an 11th grade student council member, "This year we sold more Crush cans than recent years, mostly to middle schoolers. I think it's a fun way to give a little message to one of your friends without having to spend too much money. With the proceeds going towards scholarships and charities, the Crush cans were a helpful and spunky way to support our students and community." Although the student council had an extremely successful program selling the pop cans, they weren't as lucky with Rafiki bracelets.
Hand-crafted from across the Atlantic Ocean in some villages in Africa, Rafiki bracelets were being sold right in our small, rural Minnesotan school. Valentine's Day was the initial day these fine pieces of jewelry were being sold, unfortunately zero bracelets were sold. Although the first attempt to sell them failed, the Student Council is not giving up. They'll advertise the bracelets more, which will hopefully lead to some being sold during their next try.
In Swahili, Rafiki means friend, which works perfectly with Valentine's Day. These beautiful "friend" bracelets come in a variety of colors, which correlates to the different causes the proceeds will go to. Supported by the Me to We program, these Rafiki Bracelets help those in need, while providing you (or someone special) with an appealing piece of jewelry. According to student council president, Grant Schlichting, "If you buy a blue one your 10 dollars will go to funding the creation of wells, or a green one infrastructure or so on. The Special Valentines ones don't have a specific charity like the other colors, but are a way to give your crush something memorable while donating to a good cause!"
Sharing love for significant others, friends, or even that annoying kid in class seemed to be the theme for this year's Valentine's Day. Thanks to numerous middle schoolers (and some high schoolers) that bought Crush cans and others who must have debated purchasing a Rafiki bracelet, the Cannon Falls student council was able to call this fundraiser a success.
About the Contributor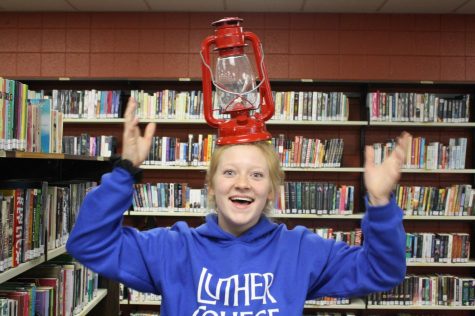 Laurie Miller, A&E co-editor
Laurie is a senior this year. She is a part of the Bomber tennis team and Northfield Raider gymnastics team. When she is not busying doing her infinite...