Spring Art Show
A variety of artwork from CFHS students can be found downtown from May 11 to May 17th.
Over the course of the past school year, CFHS students have created a large body of artwork; their pieces ranging a wide variety of mediums, from painting and ceramics to drawing and printmaking. 
While in the past these works have been featured in a brief show at the Cannon Falls High School, last year COVID necessitated the show be taken outdoors, and various store windows held student artwork for a week in May.
This year, the budding tradition will be sustained and from Wednesday, May 11 to Tuesday, May 17, artwork from the Cannon Falls High School and Middle School will be displayed in storefront windows downtown. The show will boast over 350 pieces
Cannon Falls residents are invited to stroll the CF downtown display windows to view this artwork over the course of the next week.
In addition to structured art courses, CFHS also offers students an independent art study. This course is available to seniors, with this year's independent artists being Ali Buck, Marguerite Holes, and Matti Baird. The three will be hosting a meet and greet downtown on Saturday, May 14 from 10 to 11.
About the Writer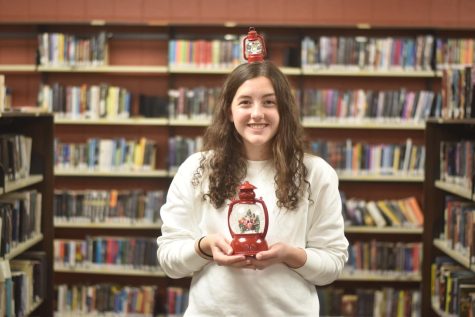 Lauren Ritz, Editor-in-Chief
Hi Everyone! My name is Lauren Ritz and I'm a senior editor-in-chief for the Lantern. When I'm not editing articles and cooking up graphics, I enjoy playing...