Strauss's staffing switch
Thanks to staffing changes at CFHS, Steven Strauss has had to pivot from his former job as a history teacher to a new administrative job.
When Mr. Strauss first went to college at Winona State University, it would have been difficult to predict where his career path would take him. Strauss's initial plan was to get his teaching license with an emphasis on social studies, but his education didn't stop there. He proceeded to earn his master's degree in Educational Leadership, and then a few years ago, he earned a specialist degree from Minnesota State-Mankato. Later, he earned his specialist degree for his principal licensure.
Although he originally began teaching in Sebeka, Minnesota back in 2011, Strauss has since moved to Red Wing, and he began teaching in Cannon Falls in 2016. Last year, he taught several different classes including civics and history for high school and middle school students. This year, his role has changed and he is now an associate principal for the school district. 
Strauss looked forward to the change in roles mainly because he gets the chance to work with high school, middle school, and elementary school students. He stated that he is really enjoying his new responsibilities because "I get to work with students of all ages." Currently, Strauss spends multiple hours every day in both the elementary school and high school/middle school buildings, allowing him to work with more students and staff than ever before. Strauss also enjoys that he gets to continue interacting with students because that's his favorite part about working in the education field. He stated that "It's apparent how lucky Cannon Falls is to have such a great student body, as well as principals, teachers, and assistants who care so much for them."
Of course, with his many changes came a few challenges. Strauss has had to take on several new responsibilities that he hasn't had in the past. In addition to being in charge of online classes and testing among other district-level items, Strauss also helps Mr. Hodges and Mrs. Chappuis out with whatever is needed. Strauss said that the biggest change has been not doing any direct teaching with students. He also stated that the days tend to go by much faster in this new role as he's constantly moving back and forth between buildings.
Although the change has been a bit of an adjustment, Strauss has taken on all of the challenges in stride. The new job has allowed him to connect with more people and take on a bigger role in the school district. He loves his new assistant principal job and looks forward to seeing what the rest of the year will bring.
About the Contributors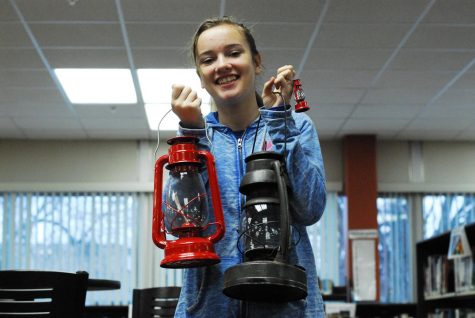 Kressin Hartl, staff writer
What up, it's Kressin Hartl and I am a freshman. Christmas and Netflix pretty much sum up my life.