Strong new speakers
Novice speakers have a special role within the larger Cannon Falls Speech Team.
My breath caught in my throat as I stood in front of the 7 other people in the classroom, judge included. I began my speech just as I had practiced over and over in my head. That was how my first speech tournament went. 
Speech has been going great for novices this season. Many have been excelling in their categories. Many Cannon Falls speech novices have won awards this season, and after just five tournaments.
This speech season officially began on November 28 in 2022, and there have been weekly group speech meetings on every Monday since. Many new speech members joined this season, labeled as novices. If it is a member's first year in speech, they are automatically a novice. Anyone in 6th, 7th, or 8th grade will automatically qualify as a novice as well unless they receive a varsity award. 
Speaking of novices, there is an abundance of new participants in speech this year. All of them have  experienced ups and downs. Here are the ups and downs of some of the novices from this season. "I find speech fun, and it is a good way to become better at public speaking," said storyteller Willow O' Gorman. "I did struggle with looking down during my speeches and speaking really fast, and I stuttered in the beginning a lot, but I have gotten slightly better at not stuttering." Ellie Iverson is also a first year speech member in humorous. This is what she has to say about her speech experiences. "I struggle with speeding up my speech and with distinguishing my characters, but I enjoy getting to hang out with people I don't normally hang out with. I also like hanging out with older kids." Anya Nygaard, an extemporaneous reading first year novice said "I love speech because I get to talk a lot, but I struggle with creating a variety of gestures" 
As a novice speech member myself, I find speech to be a lot of fun. It was a little hard to get into the speech routine at first, but it gets easier with time. In my speech category, creative expression, we write our own speeches. I never realized how much fun it would be to create my own world and twist it to how I want, but speech gave me the opportunity to do just that.
Overall, speech is fun. It lets anyone who joins to unleash their creative flow through their category. It also improves confidence in speaking. At the first tournament of the season, many speakers had confidence issues, but now, after a few tournaments, everyone has become somewhat more confident in their abilities as a speaker. Whether members get placed in a serious category, an interpretative category, or a draw category, each member has fun doing the things they are good at through speech. 
About the Contributor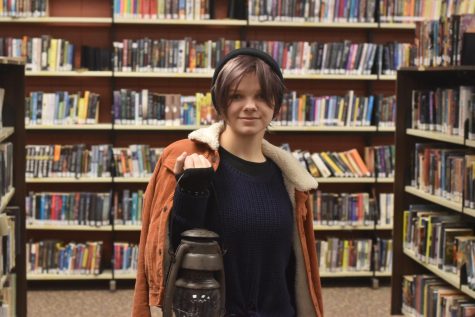 Hades Kammerude, Torch Writer
Hi there! I'm Hades and I write for The Torch. I am currently in 7th grade. Some things I enjoy are volleyball, speech, poetry, Greek mythology and writing....