Taking it to the mat
The Bomber wrestling team is optimistic for their future scores in matches as they have grown closer as a team this season.
Gavin Peterson is drowning out every distraction as he focuses solely on his opponent. The third period of their match has just started, and Peterson already gained one point for escape. They are intensely watching each other when in one quick move, Peterson takes his opponent down and swiftly pins him to win the match.
Coming off of a successful 2021 season, the Bomber boys and girls wrestling season has begun. By kicking off the start of their season with some wins, they are enthusiastic about reaching their potential this season. The returning wrestlers are prepared to come out strong after working hard in their post-season competitive clubs. 
The Bomber's wrestling team has been practicing hard since the season started on November twenty-first. But the wrestling season officially started when they won against Burnsville, but lost to Apple Valley in their triangular meet on December first. They continued on to place fourth in the tournament on December third at Faribault but lost their match against Kasson-Mantorville on the eighth. This year the team has three seniors: Parker Gill, Colten Black, and Gavin Peterson; while the captains are Black, Peterson, and, Junior, Calvin Singewald.
When asked what makes her enthusiastic about this wrestling season, Gill explained she is excited to be on a team that motivates her to succeed and reach her goals. She included that she hopes the team overcomes any challenges they encounter this season. Gill stated the enjoyable aspect of wrestling is, "It is all for one, but having teammates there to fall back on after a hard match or practice makes the sport so easy to fall in love." Even though wrestling is an individual sport, she still has the advantages and support of a team. 
The team has given the impression that they are eager to discover how well they do this season, not only together as a team, but also individually with each other's support and advice.
Singewald commented that the wrestling team has grown since last year with numerous younger athletes that he is hoping will remain in the sport throughout their high school career. He also made clear his goals for the team. He aspires for the team to work harder every day and make it to at least five hundred wins by the end of the season. Singewald stated, "My personal goal is to place in state this year." All around, the wrestling team has been preparing and training to attain a strong and successful season this year. 
About the Writer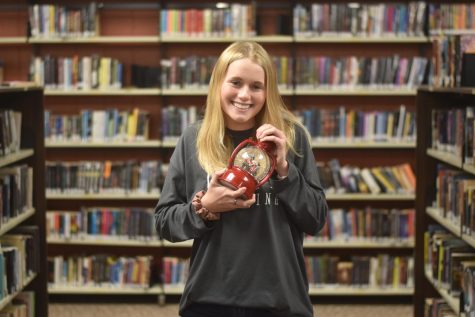 Randi Hanson, Staff Writer
Hey everyone, I'm Randi. I'm a junior and a Sports writer. Aside from the Lantern, I'm in MHS, Student Council, Cross Country and Track. In my free...