Teacher takeover
Mrs. Templin, a retired English teacher from Cannon Falls, is taking over the 7th grade English department while Mrs. Stamer is on maternity leave.
For all students who have ever had a substitute teacher, they know things can get out of hand fast. In today's world, it is not so much the people that can get out of hand, but the technology. Teachers, especially now, have to go out of their comfort zones and use a lot more technology than they are used to. Barb Templin, a long-term substitute teacher, has had both triumphs and struggles with this during the Covid-19 pandemic.
Mrs. Templin took over for Destinee Stamer's seventh-grade language arts class after she went on maternity leave. Ms. Stamer's last day at school was going to be March 8th, but she ended up leaving early on March 1st. Templin is her long-term substitute for the rest of the school year. "I like Mrs. Templin because she seems like a good teacher and she was the language arts teacher before Ms. Stamer," commented Lily Nygaard. As she was adjusting to being a substitute, Mrs. Templin stated, "I'm excited to be back teaching at the middle school. Thankfully, I have awesome colleagues who take the time to help me through this process."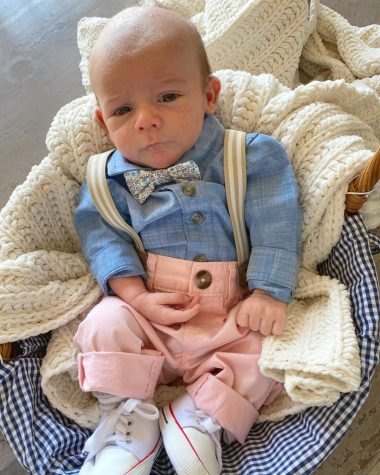 Ms. Stamer has been at home for a couple of weeks now, and Mrs. Templin has been doing a great job at teaching. Students love having her as their long-term substitute, and she loves being the substitute. "I've taught 7th grade for a number of years. I love the energy students bring to class," Templin said.
Mrs. Templin was a language arts teacher, so the choice of Templin being a long-term substitute was not coincidental."I will miss her energetic self, and I am bummed that she is leaving," said Mikey Kalal. So many people will miss Ms. Stamer as the language arts and reading teacher, whether it's the students or the staff.
Some 7th graders are excited to get a substitute teacher for the rest of the year, while others are not because they won't get to have a reading and language arts teacher that is just like Ms. Stamer. It will be a little change in the students' schedule for them to get used to, but that's not the only thing that is going to change. Mrs. Templin has to get the students into the zooms, so she needs to use a bunch of technology that she is not familiar with. Other teachers have been helping Mrs. Templin with these technical issues. Mrs. Templin is very appreciative of the help she has received from both students and teachers, and she believes her first few days went smoothly because of them.