Tee time
Bomber golfers prepare for another season.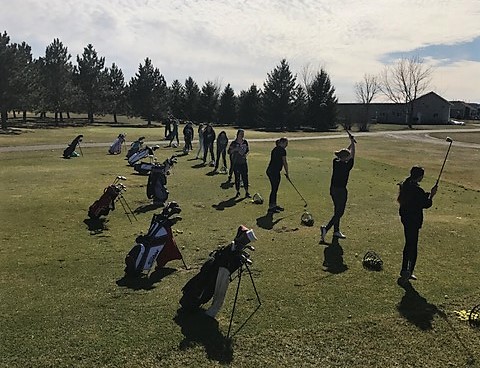 Snow has melted, leaves have grown, grass has sprung, and the courses are open. The Golf season has started again and players are cleaning their clubs in preparation for a successful season. Called "the rich man's sport,"for the expense that goes into clubs, bags, carts, and courses, golfers put in lots of work and money to play the sport. Cannon Falls boys' and girls' golf teams have begun a new season with high hopes for success.
Returning Cannon Falls boys varsity players include Addison Bahr, Isaac Illa, and Luke Langdon. Boys Varsity head coach is Doug Rechtzigel. There are no seniors, however there is one junior, Addison Bahr. He is a returning champion who has been playing for the school since he was in 6th grade. He was first introduced to the game when he was four. Advice he would give to younger or new players would be to "keep working at it. It's a really tough sport, I think it's the hardest sport out there. You've just gotta keep working and try to improve your game." He says the hardest aspect of golf is being mentally ready. According to the competitor, one would have to stay mentally focused and in routine. One has to be mentally prepared for a bad hole and if you do have one, one must learn to pick themselves back up. Every hole is like a fresh start.
Boys' golf is mostly Bomber blood, however the girls have a large mix of Bombers and Rockets. Returning golfers from Randolph include Kristyn Thielbar, Mackenzie Lockhart, and Lauren Lockhart. New competitor Julia Thompson is also from Randolph. Over half of the girls golf team is made up of Rocket blood and the Cannon Falls returning varsity golfers are Katelynn Holst, Maggie Bahr, and Aizlynn Thim. Coaching the girls again this season is Lee Gisvold. Katelynn Holst is the only senior on the girls varsity team.
"
I think it's the hardest sport out there"
— Addison Bahr
Eighth grader Maggie Bahr is the sister of Addison Bahr and on the Cannon Falls on the girls varsity golf team. She has been playing for the school since she was in sixth grade, lettered in seventh, and plans to continue throughout the rest of her years at the school. "I joined golf because my brothers were in golf, and my dad was pretty good at it and they all wanted me to try it. So when I was in sixth grade I did both golf and track but I liked to golf better so I stayed with it," she says. Bahr has shown much improvement since her first swing, but the course isn't her favorite part of the game. "My favorite part about golf is the team. They're all so fun and loving and we have a blast together."
Although the players are not allowed to drive carts during tournaments, they also don't have to carry their clubs. Varsity players are provided push carts to play with. The push carts are very nice as they fold up for easy travel, and roll nicely. Girls Varsity used them at their dual on Thursday, March 6 against St. Anthony Village. Clubs are not provided for the players but it gives them a way to differentiate their taste in golf products. Wish them minimum wind and lots of sun and fun for the season.
About the Contributor
Aizlynn Thim, Editor-in-Chief
Aizlynn is a Zyia-obsessed, Red Bull dependent, midnight snacking, heap of awesomeness. She is a Senior Editor-in-chief who dearly misses her true home:...