"Certain as the sun, rising in the east, tale as old as time, song as old as rhyme, Beauty and the Beast." This is Cannon Falls middle schoolers singing their hearts out as they sing their finale song at the end of the Beauty and the Beast Jr. musical.
Here at Cannon Falls Middle School and High School, the musical this fall is Beauty and the Beast Jr. It is mostly called that because there are many middle schoolers in it, including many sixth graders. Many sixth graders wanted to try new things this year and many joined theater.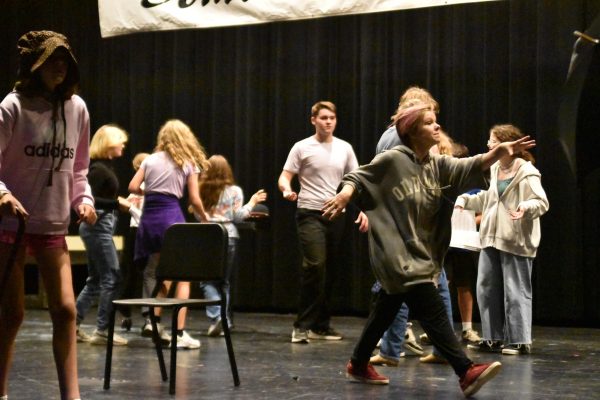 There are many roles in this and some of the main roles are, Belle, Beast, Lumiere, Cogsworth, Mrs. Potts, and last but not least Chip. Chip is played by a middle schooler named Tucker Nobach. Nobach said, "I think the performance is going amazingly."  They are working so hard as the show creeps closer and closer. Some other middle schoolers' roles are Elliot Iverson's role as Ensemble with many roles such as the lady with a baby, the coat rack, a wolf, and lastly a napkin. Lola Winchell's roles are a server, a milkmaid in the ensemble, and also a lady in a tavern. Kinzley Rezac's roles in the musical are the ensemble which includes a candle seller and a napkin.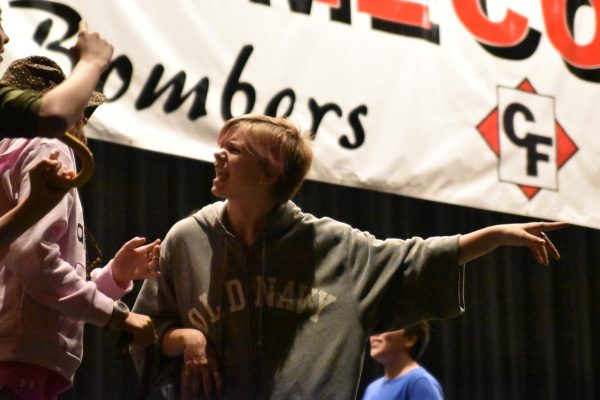 Everyone has worked so hard every day to fix their mistakes and prepare for opening night. On a few Saturdays, they have spent so long on a bookshelf that looked fantastic. They spent their Saturday and each individually painted all of the little books to form a bookshelf. In Elliot's opinion she thinks, " The performance is going to go well, everyone is working so hard." Elliot thinks there are a few things to work on such as the dances. Everyone has taken time out of every day to work on and build on sets and work through and learn their lines.
The Musical is being hosted in the school's auditorium from November 17th through 19th. There is a lot of great acting here! Everyone is welcome to come and watch the performance. They are working harder and harder each and every day to change scenes and make their way to the end of the show. All of them do everything they can to help each other out by changing scenes and getting out of costumes. Theater is a great way to make new friends and learn new things. Remember the musical is from the 17th through the 19th.