The Death Cure
The Lantern reviews the most recent movie in the Maze Runner series, The Death Cure.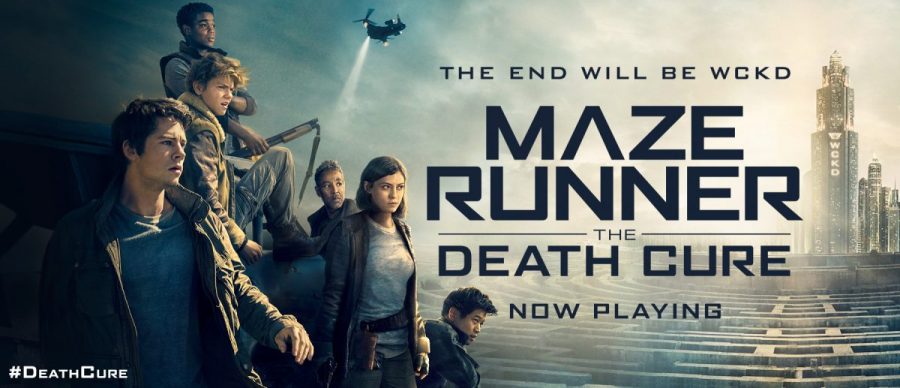 The highly anticipated third installment to the Maze Runner franchise, "The Death Cure", came out on January 26, 2018. I was so excited when I got the opportunity to go with a friend to see it. After hearing high remarks about the movie, I had high expectations for it.
The Maze Runner series features three boys named Thomas (Dylan O'brien), Minho (Ki Hong Lee), Newt (Thomas Brodie-Sangster), and one girl named Teresa (Kaya Scodelario). These are the four main characters seen throughout the movies. They are just a few of the teens who start out trapped in a maze by an organization called "World in Catastrophe: Killzone Experiment Department" (Wicked). With no memory of their previous lives, the group struggles to survive while looking for a way out. "The Death Cure" revolves around these kids who are trying to find a cure for the "flare", a deadly disease, while also keeping Wicked from killing everyone else in the process.
Of course, I wasn't the only one who went to see this movie. I decided to interview another student, Gavin Stodden, to learn what his thoughts were concerning the new addition to the series. When asked about the movie overall Stodden replied, "I liked it. I think that the characters have really grown since the maze". His favorite part was when a certain someone came back to join the alliance, but if you want to know who it is, you're going to have to watch the movie to find out!
Out of all the characters Gavin Stodden's favorite was "Thomas, because he started out as nothing and ended up as a something." Finally, when asked if he thought the characters changed a lot from the previous movies Stodden responded, "Yes, I think the characters changed drastically. Thomas started out as just a greenie, and he ended as the leader. Galley was the big tough guy before, and when he comes back it's mind blowing, because he now listens to Thomas, which is a big role change".
I think that this movie was my favorite out of the three. I don't know if they are going to come out with another one, but if not, I think that "The Death Cure" was a great movie to end the series with. If you are a "Maze Runner" fan, you are definitely going to want to see this movie.