The Nutcracker
The Lantern reviews the Cannon Falls School of Dance and Northfield Arts Guild Dancers' performance of The Nutcracker.
Christmas traditions are ingrained in the woodwork of American culture. The Grinch and Rudolph are characters that have been most recently created for children but are widely beloved by adults as well across the country. Often old classics are overlooked. However, the Cannon Falls School of Dance and the Northfield Arts Guild Dancers brought the beloved Christmas classic The Nutcracker Ballet to the Cannon Falls auditorium. The two hour long adventure fabricated a lovely traditional Christmas story with a copious number of dance narrations and solos.
Magic began to unfold with narrator Rob Hardy introducing the first scene. Clara's godmother gave a mystifying wind up dancer as a present that danced with the children. This particular section seemed quite chaotic and disorganized which was most likely due to the fact that the vast majority of the dancers were in elementary school. One particular dance was absolutely adorable because a young girl in the middle of the ensamble couldn't stop smiling. Her grin was infectious and made up for many of the groups' mistakes. The narrator was also ill equipped for the performance, having forgotten key excerpts of his lines. Despite many faults, the dancers seemed to be having a blast on stage which, in the end, is all that matters.
As someone who has actually participated in a version of the Nutcracker when I was a tot, the performance brought back many memories filled with the spirit of Christmas. The second act of the performance was gorgeously executed. Cannon Falls High School's very own Abby Barrett played the part of the Sugar Plum Fairy where she twirled through her solo with ease. The Snowflake trio added variety when they changed into pointe shoes. Their performance during the second act was tasteful and made me feel like I was actually in the Nutcracker.
Dancing is difficult to execute without some tunes. The Cannon Valley Regional Orchestra added sophistication to the already elegant performance. I really enjoyed the live music and actually seeing the musicians on stage. Overall, the performances from these young dancers and professional musicians were mystifying which most definitely spread Christmas cheer for all to hear.
About the Contributor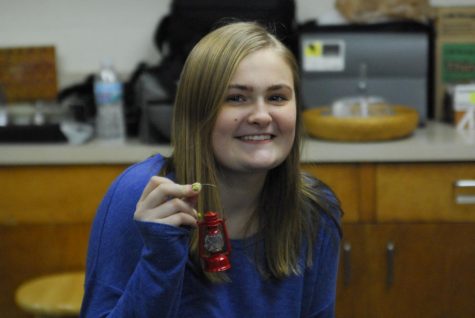 Laura Johnson, co-Editor-in-Chief
Senior, Laura Johnson, is an Editor-in-chief who enjoys Hulu. Speech and FFA also occupy her free time. She participates in many band activities such as...