The perfect pancakes
Three different pancakes mixes are reviewed and ranked by one of the Lantern's staff members.
Whether you call them pancakes, flapjacks, griddle cakes, or another name entirely, most people have tasted this American staple breakfast. The recipes for these little cakes vary slightly in different regions and periods of time but remain relatively the same. Although this breakfast item is generally easy to make, most of us probably cheat the system a bit and use a box mix. As a pancake fanatic who always uses a box mix, I decided to rank three of my favorite pancake mixes.  
The first box mix I tried was the original Bisquick mix made by Betty Crocker. Creating pancakes from this mix requires the addition of eggs and milk. After cooking, these pancakes appeared to look like something ordered in a restaurant. They were very fluffy and had a nice golden color on the outside. In terms of flavor, these flapjacks were slightly lacking. Bisquick is designed to have a variety of uses depending on what is added to the mix, so it has a rather basic flavor. This mix was significantly less sweet than the restaurant-style pancakes they appeared to be.  
The second mix I tried is a name that dominates the pre-packaged pancake world, Aunt Jemima. This batter was simpler to create than the Bisquick one as it only needed water. The finished pancakes looked very similar to the Bisquick ones and were equally as fluffy. Since this mix is designed for only pancakes, its flavor was closer to that of what was expected. It had a semi-basic taste but was just the right amount of sweetness that would pair perfectly with toppings like whipped cream, strawberries, or syrup. 
The last mix I taste-tested is my family's first choice pancake mix, Sturdiwheat, made locally in Red Wing. This mix matches the Aunt Jemima mix in only requiring the addition of water, but the cooked cakes looked and tasted much differently. The use of organic flour in this mixture leads to a slightly grainier batter, and the final pancakes were a little less fluffy than the Bisquick or Aunt Jemima pancakes. However, these pancakes had a fuller flavor compared to both of the other mixes. 
After a week of eating nothing but pancakes for breakfast, it still remained difficult to rank my options. Overall, the Aunt Jemima one was the fluffiest and tasted closest to what you would get in a restaurant, so I ranked it in first place. I would put the Sturdiwheat one in second because of its flavor, even though its texture was a bit strange. Finally, I would put the Bisquick one in last simply because it had a slightly bland flavor. That said, all of these mixes produced delicious breakfasts that I definitely won't be taking off my menu any time soon. 

Loading ...
About the Contributor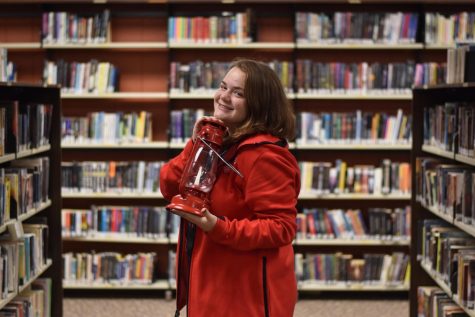 Sara Auger, Torch Editor
Sara Auger is a sophomore lantern writer and editor. Her favorite activities include listening to music so loud she gets hearing damage and driving 30...