The person behind the wheel
Bus drivers are an extremely important, but often overlooked, part of the school community.
Most students ride a bus to or from school each day each week during the school year. When students ride the bus, they might hang out with their friends, play games, or wait quietly till their stop. However, not many people think about the bus drivers themselves, and their side of the story. Turns out, there's a lot more than some may think.
In Cannon Falls, Wendy Cordes drives route 9, and typically runs a 45 minute route each day. She has been a bus driver for 4 years and absolutely loves it; "My favorite part of the job is seeing the children, some of them awake and smiling, some not so much, but it all pays off with the laughter and the thank you'd at the end of the route." Cordes also loves her team, and finds them as the best support team she's had: "[They are a] Totally amazing bunch of people. From the driver's to Andy, Alison, and Chad."
Unfortunately, bus driving is not always awesome. Sometimes students can get unruly on the bus, so Cordes usually gets their attention and talks with them about the rules on the bus. If that doesn't work, she then assigns seats which usually solves the problem. If there were someone still misbehaving, Cordes would have to write them up and have them meet with the principal. Occasionally, drivers will take trips for sports and activities in addition to their regular routes, which can bring added excitement; "The most interesting thing that has happened to me was while I was doing an activity. Took volleyball team to Marshall MN . It was a hot sunny day when we arrived, so we left most all the windows down and the roof hatch open. Well guess what! When it was time to leave it was pouring down rain! Everything was soaking wet, along with myself and a few of the girls that ran across the parking lot to get to the bus. Wet, cold, but memorable." She truly loves her job and enjoys everyone that she meets along the way. When Cordes isn't driving a bus, she hands out lunches for an hour at door 13 at the school. She also spends her time sometimes washing school vehicles during the day.
Morris Mattson is another bus driver in Cannon Falls, who drives route 1. His ride to and from the school usually takes around an hour each time. He has been a bus driver for about 27 years, where he usually drove or supervised for the past years. When Mattson isn't driving, he usually goes to his business or home. Sometimes, there can be students misbehaving, so Mattson tries to talk to them and help get them to understand. One time Mattson was dropping off some students, but something caught his eye. In addition to troublesome students, bus drivers must stay vigilant for other threats; "[I] Saw an unrecognized car in the driveway. [I} wouldn't let students off until I knew who it was." According to Mattson, his favorite part of being a bus driver is "Getting to know the kids and their families." Like Cordes, Mattson loves being a bus driver and getting to see the kids.
Another bus driver in Cannon Falls is Todd Swanson. Growing up, he lived around school buses; "I grew up around school buses as my Mom and Dad owned and operated the buses for Wastedo school. When Wastedo consolidated with Cannon Falls my Dad was hired as transportation supervisor for Cannon Falls." Now, he is in his 6th year as a bus driver after retiring from the postal service. He drives his route 10 with a wheelchair lift operation, making it take an hour each morning and afternoon. His route is shorter than other bus drivers, because of the wheelchair lift operation. Like other bus drivers, if someone misbehaves, Swanson likes to handle it on the bus, usually by assigned seats. Like how other bus drivers are ordered to, if it continues he has to write the student up, and have the principal take care of the situation. When Swanson isn't busy, he spends his time doing a lot of things. "Between routes, activities vary depending on the season of the year. There is yardwork, housework or other projects to take care of. I may work in an occasional round of golf during the warm weather." After each route, Swanson pointed out that, "Drivers walk through the bus checking for forgotten items or yes, a sleeping student." He also said that he pays close attention to who gets on and off each route, but sometimes it happens where he finds someone sleeping or even hiding. What's interesting though, is that Swanson loves getting to know the kids, and watching them grow up each year. He also enjoys seeing them and greeting them as they ride the bus.
These are a couple of many bus drivers, who have their own stories to tell. Some bus drivers may seem strict, kind, or harsh, but they all want to make sure students get to school and home safely. One thing that a lot of bus drivers have in common about their favorite part of their job, is seeing the kids. Whether that be seeing them grow up, say hi's and thank you's, or just be on their bus, they always appreciate it. Make that next time you see a bus driver, say thank you or even just say hi. It might just brighten their day.
*Note – This article is published by middle School students in the Torch, which is a portion of the Lantern
About the Writer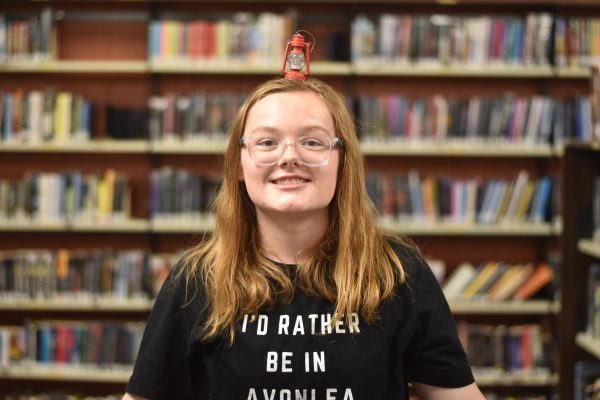 Cara Erickson, Features Editor
Hello, my name is Cara Erickson. I am the Features Editor for Lantern and a part of Interact. I am such a huge reader, that I've been caught reading in...