The win is served
The Cannon Falls Girl's Tennis season is drawing to a close.
With how many tennis matches that have been cancelled due to weather, it makes sense when the members of the Cannon Falls tennis team say they aren't too happy with mother nature this year. Despite the dreary weather, the girls still manage to have a whole lot of fun. While practices are long and hard, they help the young team. Last year tennis lost seven seniors which made up most of the varsity team. The young members are excited to be part of the team and to gain experience.
        Even though they may may not be top runners with a record of six wins and eight losses, they are learning and having fun. Captain Paige Miest said,"I am really proud of how well the younger girls this season have done in really difficult spots. They're always optimistic and have really helped to fill in for the seven seniors who graduated. It's so much fun to watch the girls fall in love with tennis and get to know the other amazing people on the team. We have all become like a little quirky family, and I love to see how much that bond has helped us on the courts. These girls have taught me how to be a good leader while still having fun in the process."
"
We worked our best to improve every match while having fun and I think that is more important than winning."
— Laurie Miller
     As the season is coming to a close the seniors, Laurie Miller and Paige Miest are glad they got to help build the young team but are sad that their careers are coming to an end. Laurie said, "Coming into the season I was a little nervous because of how many seniors we lost last year. We basically had a completely new team but I am really proud of how much the younger girls have stepped up. We worked our best to improve every match while having fun and I think that is more important than winning. It will be so sad to leave these girls once I graduate, but I know Paige and I are leaving the team in good hands." Despite the odds and the weather, the Cannon Falls tennis team has improved and accomplished what they set out to do this year while keeping it fun and encouraging.
    Girls tennis had their first round of sections on Thursday, October 4th against Cotter. Cannon Falls wasn't expected to win but managed to beat Cotter 4-3. The girls brought a new energy that wasn't there in any of the other matches this season. They played their very best which paid off and showed just how much they really wanted the win. In the end they were tied 3-3, and Paige was the only one left playing at 1st singles. She won her first set 6-4 and her second set 6-0 tipping the scale in the Bombers favor. They left feeling very accomplished and will be moving on to the next round of sections in Rochester on Monday.
About the Contributor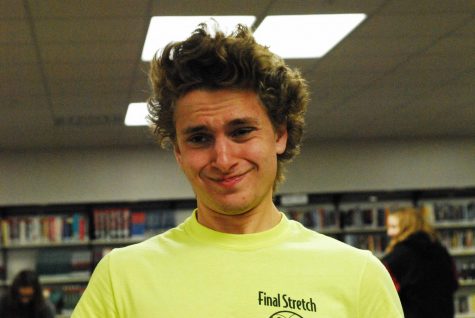 Bryson Felton, Photography co-editor
Bryson Felton is a senior photographer and part editor for the Lantern. He is also involved in the school musicals and plays, speech, yearbook, and track....