'Tis the season to talk to walls
In the middle of November, the Cannon Falls speech team started diving into full practice mode.
Last year, the speech team at Cannon Falls High school blew the competition away as they ended their season by placing second at the state tournament. At sections this past year the talented members broke many school records, with thirty of the speechies making it into finals. Furthermore, twenty-one of these exceptional performers qualified for state. For the first time ever, the Cannon Falls speech team had at least one member from their school represent them in each of the thirteen categories at state.They are hoping that they will be able to build on this success from last year when their meets start up in full swing later in the winter. 
Holly Winget, Cal Vande Hoef, John Fogarty, and Destinee Stamer are the coaches for this team, and their goal is to help push these students out of their comfort zones so that they can achieve excellence. Luckily, the coaches will be able to pass their knowledge and experience down to the seventy-five students who make up the team this season. With help from their eight captains, the coaches believe that their team will be unstoppable. Cal Vande Hoef, one of the head coaches for the speech team, expressed "We have strong, talented people and if we can get them all moving in the right direction and working hard we should be fine." Vienna Qualey, a senior captain, added that, "Focusing on having fun along with staying on task will help us push our performances to the limit."
"
Focusing on having fun along with staying on task will help us push our performances to the limit."
— Vienna Qualey
A mix of seniors, including Zoe Jesh, Chris Baszuro, Emma Conway, Vienna Qualey, and Bryson Felton along with a couple of juniors by the names of Aizlynn Thim, Kressin Hartl, and Emma Waston make up the captains of the CFHS speech team this year. On November 18th, this group of wise individuals embarked on a journey of leading their team to victory as they held their first full-team practice of the season. Thim explained her positive outlook on the season as she stated, "Since last year was a really strong season for the team and we lost a lot of really talented seniors, I'm excited to see what this year's team and all the new speechies can bring to the table." She continued to explain that she is looking forward to hearing all of the different speeches this year. For the next month, these leaders, with the help of their coaches, will focus on preparing their teammates for the speech meets that start in the middle of January.
Once these students are in the midst of their season, their Saturdays will consist of talking to walls and performing their pieces in front of small audiences. As they get feedback from different judges at these competitions throughout the season, they will work on making simple or complex changes to their scripts with their teammates and coaches in an attempt to improve their chances of winning. At the moment, these speechies are just getting started and are still working on finding their topics and speeches; however, they will be speaking their little hearts out in no time.
About the Writer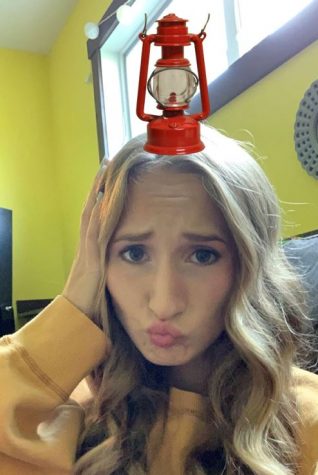 Amelia Qualey, Editor in Chief
Amelia is an alien from the planet Blurble. Her car of choice, a green Kia Soul, resembles one from her home planet. She is a professional dancer because...