Tracking the days until it's time to come back
The Cannon Falls Girls Track Team had a short beginning to their season before being cut off mid-April.
As for many schools this past year, Cannon Falls sports have looked a little different due to Covid-19. For the girls track team, things that have been tweaked include practice plans and Covid guidelines. The girls track coach, Brett Zimmerman, is now the official coach for both girls and boys track, meaning he is under a lot of pressure having to take care of double the amount of athletes as previous years. Nevertheless, Coach Zimmerman was stoked to have the season start. On March 29, boys and girls from Cannon Falls and Randolph kicked off their season, and on Thursday, April 8th, had their first varsity track meet in Kenyon. 
Because they began the season later than usual, the girls had less time to prepare with their first meet being ten days away from the first practice. Captain, Anna Becker, expressed her emotions towards the amount of preparation time given to construct a race-ready team for the first track meet as "nerve wrecking." Personally, she hadn't ran in an actual meet for two years, along with many other of the veteran athletes, so for Becker and many of the older athletes, having a minimal length of time to prepare was not ideal. This setback encouraged many of the athletes to push themselves at practice to be ready to race for the first meet. 
Many of the athletes had worked very hard in the first two weeks of their season. While entering the third week of the track season, the athletes were informed that due to a rise in Covid cases at the school, their season would be suspended until April 29. Many of the athletes were not surprised with this information. Coach Zimmerman has given the athletes workouts to do while they are at home, so that they will be prepared to come back and take on what the rest of the season has in store. Becker hopes that with how this year has gone that she can grow as a sprinter and create a closer connection with her teammates. The girls track team is ready for whatever comes next, and is hoping to return back to their teammates as soon as they are allowed to. 
About the Contributors
Emilee Burr
Hi I'm Emilee Burr I'm a Senior. I'm in Volleyball, Dance, and track. In my free time I like to hangout with my friends and watch Netflix.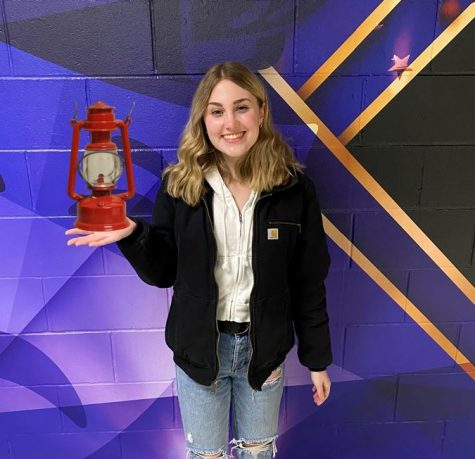 Emma Louwagie, staff photographer
Emma Lou is a senior photographer who enjoys spending money and snuggling with her puppy.