Treat or treat
Spooky season is upon the lantern. One lantern editor compares different types of Halloween candy.
On one spooky Friday night, I sat down at my friend's house to settle the age-old question: what is the best Halloween candy? Is it candy corn, Hershey's Tombstones, or Reese's Peanut Butter Ghosts? Is it none of the above? We wanted to find out. After work, Saundra Stodden and I hurried to the grocery store to bulk up on as many Halloween-themed candies we could find. Heading to her house, we were prepared to have her dad, Steve, her brother, Gavin, and her twin sister, Ellie, sample and review each of the candy pieces. The 8 candies we were able to find were: Kit Kats with a spooky bar design, harvest corn, Reese's Peanut Butter Pumpkins, Hershey's Tombstones, Reese's Peanut Butter Ghosts, Hershey's Cookies 'N' Creme Tombstones, York pumpkin-shaped Peppermint Patties, and candy corn.
After putting on some looser pants in preparation for the amount of sugar we were about to consume, we were ready. Starting with the spookily designed Kit Kats, Gavin dug in. He rated them as a 10/10 and once the rest of us sampled it, we agreed. It tasted exactly as normal Kit Kats do. Ellie stated, "There's a good ratio of wafer to chocolate." Next, we opened the bag of harvest corn, which is the same as candy corn except it has a chocolate bottom layer. Steve Stodden, a Cannon Falls High School graduate, was a huge fan of it. He thinks it's even better than regular candy corn because of the "chocolate effect," but the rest of us thought he was wack. The twins and I gave it a 3/10, thinking it was even worse than normal candy corn. Gavin refused to even try one piece. Since we had just tried harvest corn, we had to compare it to the real stuff. Once again, Gavin, being the dramatic sophomore that he is, tried to refuse the candy corn. After some coercing, he ate a broken piece while fuming from the ears. He ended up giving it a 2/10, which was higher than expected. Ellie gave it a 1/10, Saundra gave a 3.5/10, and I gave a 4/10. The artificial taste of it was not favorable. So far the sampling wasn't going too well, but it could only go up from here, right?
"
Saundra granted the disgusting candy a 5/10, but said she "wasn't a fan.""
We were very wrong. The fourth Halloween candy we tried were the Reese's Peanut Butter Ghosts, which were made out of white chocolate. Ew. Ellie gave it a 1/10 because of the bad combination of peanut butter and chocolate. I took a page out of Gavin's book and refused to even try it. Shockingly, Saundra granted the disgusting candy a 5/10, but said she "wasn't a fan." All 5 of us had a consensus nonetheless. These white chocolate peanut butter treats were no treat. Hoping to find something that honored the delicious taste of chocolate, we went for the classic Hershey's Tombstone, which was a simple milk chocolate bar. Although this flavor was a little boring, the classic, delectable taste was undeniable. York pumpkin-shaped patties were up next. Giving it an 8/10, Ellie and I thought the cool, mint-chocolate pumpkin was superb. Unfortunately for the other two Stoddens, not including Steve, mint was not their thing. Spitting it into the garbage only after chewing it for a couple seconds, Gavin was repulsed. At this point in the experiment, Gavin had coined the name of "Gavin the Critic." Hoping for something better, we reached for the next subject.
Luckily for us, Reese's Peanut Butter Pumpkins were the succeeding option. A 7/10 was given by the twins and a 10/10 was given by Gavin and I. "I've loved Reese's ever since I was a kid," said Gavin with a mouth full of chocolate. Following the eating of these pumpkins, the whole room got into a lively debate over whether the holiday-themed Reese's are better than the normal Reese's cups. The majority ruled that the cups are far superior to the eggs, trees, and pumpkins. Finally, we had reached our last candy. Sick of eating, Saundra rated Hershey's Cookies 'N' Creme Tombstones as a 5/10, which was lower than she normally would rate it. The rest of the family and I thought it was okay, but not the best.
After what seemed like an eternity of testing Halloween-themed candy, we were finally done. There may not have been a clear winner, but based off the responses from the five of us towards the spooky Kit Kats, they seemed to be the favorite. When the twins were asked how they felt now that this experiment was over, Saundra said, "It made me happy and feel like I'm trick or treating," and Ellie simply stated, "I'm gonna puke."
About the Contributors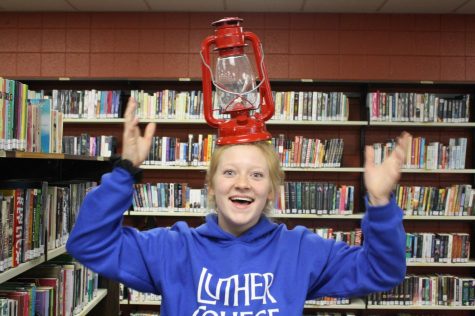 Laurie Miller, A&E co-editor
Laurie is a senior this year. She is a part of the Bomber tennis team and Northfield Raider gymnastics team. When she is not busying doing her infinite...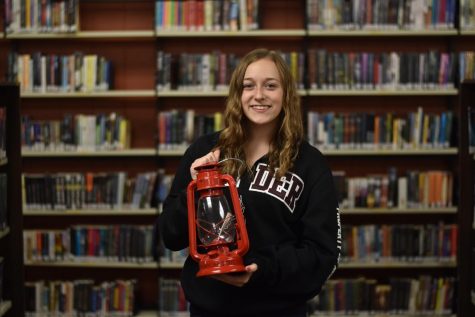 Saundra Stodden, Photographer
Saundra is a senior and a gymnast for the Northfield Raiders team. She loves photography, painting, and ceramics. In her free time, she enjoys watching...