Truly independent art
Independent art students are adapting to a new at home setting.
Art is one of the most hands-on subjects taught in schools. However, now that school is strictly hands-off, students and teachers have no choice but to get creative in order to continue learning and growing as artists. This is a particular challenge for students in Independent Art, seeing as it is an art class where students can do whatever they please with the tools at their disposal. Before the Coronavirus pandemic broke out, the students enrolled in Independent Art were working on a wide variety of projects that surpass those of a normal art class. Among these were crafts like quilt-making, wood burning, painting, and ceramics. Unfortunately, supplies such as sewing machines and kilns are not available to the general public and without these tools, students have been forced to adapt.
"
I miss the art room and people in it, but I'm excited to see what I'll create with the limited art supplies I have at home."
— Saundra Stodden
Saundra Stodden is a senior at Cannon Falls High School. Before the break, she was working on a few different pieces: ceramics, mosaics, and wood burning among them. Because she could not work on all of these projects at home, Stodden was forced to leave some of her pieces at school to be completed at another time. "I miss the art room and people in it, but I'm excited to see what I'll create with the limited art supplies I have at home," she expressed. Unlike Stodden, another independent art student can do the majority of her work from home. Anna Geise uses mainly paint and ink, and as such, this senior has been able to continue much of her work. But she misses having Independent Art in-school. "The class is about growth as an artist and to grow you need to learn. It's really challenging to learn without a mentor like Mrs. Hernke. For an art class, feedback is vital." 
With school being online, Independent Art students are meeting through Zoom twice a week, much like other classes. Even though students have been using this time to give each other opinions and suggestions regarding the artwork they are making at home, Geise and Stodden both feel that it's not the same. Still the pandemic is allowing students to try things they wouldn't have tried before, such as assemblage art or the use of everyday items to create unique projects. 
School has vastly changed due to the switch to online learning and Independent Art is not exempt from these alterations. Nevertheless, the class is still enjoyable for its participants. Vienna Qualey, another senior taking Independent Art, even stated that "IA is my favorite part about being out of school. There is something pretty magical about sitting down in comfy clothes, watching a movie, and doing a craft that you love."
About the Contributors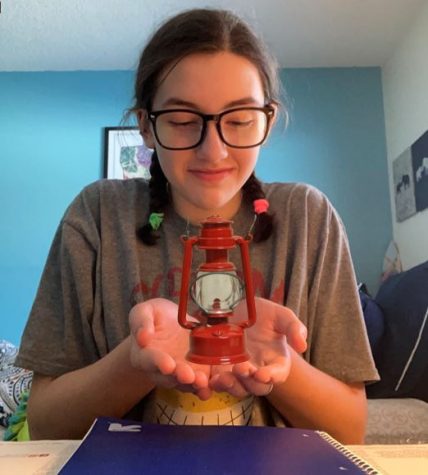 Lauren Ritz, Staff writer
Lauren is a sophomore features editor who loves playing tennis, competing in speech, reading, rain, reading in the rain, and taking naps. In the future,...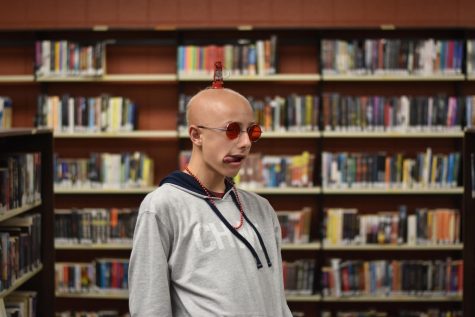 Nathan Baszuro, Photography Editor
Hi I'm Nathan, I am in 9th grade. I like to eat a lot. I participate in speech, soccer, yearbook, choir, and the Lantern. I want to be an actual editor...