Twin-nastics
CFHS freshmen Ellie and Saundra Stodden compete on the Northfield HS gymnastics team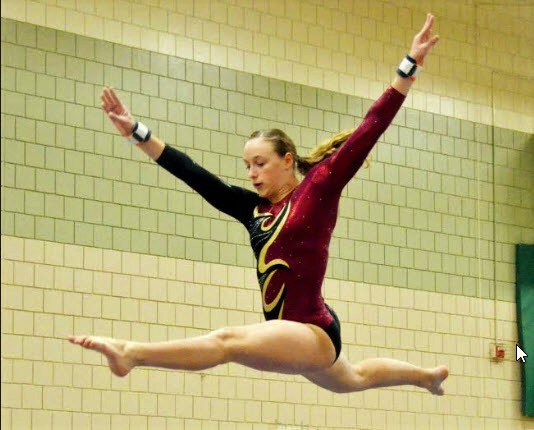 Hang on for a minute...we're trying to find some more stories you might like.
Cannon Falls has quite the variety of sports and activities to choose from for a rural community. The small town has a very successful dance team but is missing any sort of gymnastics team or club. A lack of access to gymnastics in Cannon Falls doesn't stop the Stodden twins, Ellie and her sister Saundra. The freshman twins drive all the way to Northfield four days a week in the winter and five days a week the rest of the year to participate in gymnastics. The two agreed it would definitely be nice if Cannon got its own gymnastics team (It would save the girls roughly 6,880 miles and about 140 hours of driving yearly).
The Stodden Twins have been in gymnastics since the age of two. Their parents put them into the gymnastics program because they thought that their daughters would enjoy it and excel. Both Ellie and Saundra have stuck with it all these years and have worked hard the whole time. They both compete on the varsity level and have even placed 3rd individually despite being only in 9th grade.
                                    Nick Gerhardt/Northfield News
Gymnastics is a team sport, like dance, and involves flexibility and agility like dance but the two sports are quite different. Gymnastics is based more heavily on individual performance, much like wrestling or track, and unlike the dance team. Individuals compete and the team as a whole gets points for their individual performance. During the winter, Northfield Gymnastics participates in 14 meets, averaging 1 to 2 meets a week. When asked about their favorite parts about gymnastics Ellie stated that competitions were her favorite part about gymnastics because she "gets to show off her skills and become closer with her teammates." When asked, Saundra responded that her favorite part about gymnastics was her teammates and the comradery that they share.
The Stodden twins see gymnastics as a lot more than just a fun way to spend their days after school. Gymnastics has taught them many important lessons that they use in their daily life. Both of them agreed that the biggest lessons they pull from gymnastics are "perseverance and determination to do well." The two plan on keeping up this perseverance and determination in gymnastics as well; they don't have any plans for the olympics yet but say they are definitely interested in college level gymnastics.
Even though Cannon Falls does have a variety of options for club and school sport participation, gymnastics is not yet included in that pool. Maybe in the future students at Cannon Falls may discover an interest in gymnastics leading to a club and maybe even a school sponsored sport. Unfortunately for now the Stodden twins will have to pursue their love of gymnastics 20 minutes away in Northfield.