Twin-tastic gymnastics
Two very experienced sisters from CFHS lead an out-of-town gymnastics team.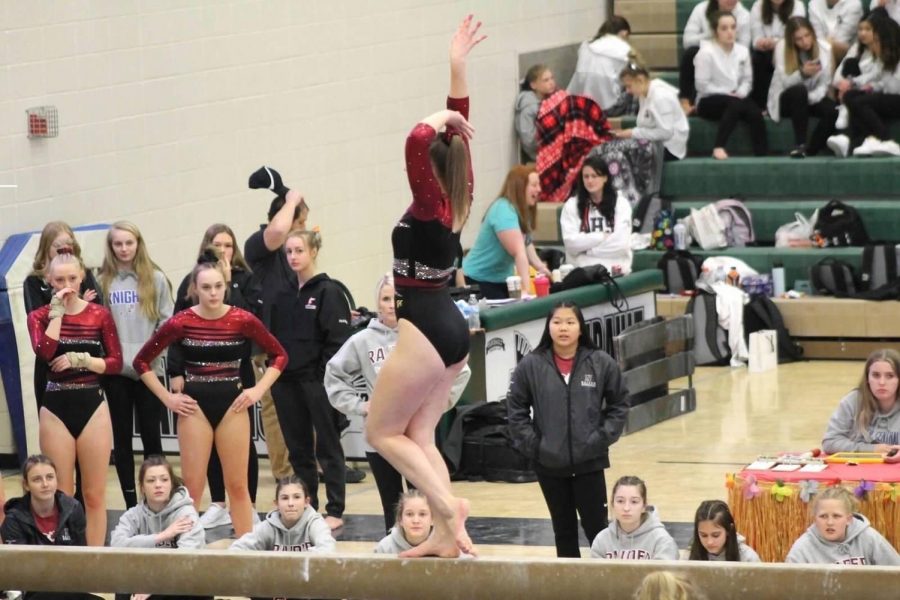 Twin sisters Saundra and Ellie Stodden, now seniors, have been in gymnastics since they were eighteen months old. Quickly noticing their tendencies to climb different appliances throughout their household, their parents decided to let the twins go wild at their local gym. Exposure to gymnastics at a young age has led the Stodden twins to develop strong skills for the sport. Now, in their final season, they are leading the Northfield Raiders Gymnastics Team as captains. With less than a season remaining in their high school careers, they are hoping to go out with a bang.
The team has gone through many changes in practicing facilities. They even once practiced in an old K-Mart store in Northfield. During the most recent off-season, the Raiders were invited to practice in the Farmington Gymnastics and Cheer Building. "We are adapting well to the new gym in Farmington," Ellie explains. Having a comfortable space to practice in is very important for the gymnasts to focus. "The facility is very nice and the staff is very welcoming, which makes it feel like home. We're really excited to have the opportunity to practice there and reach our goals," adds Saundra. Though the team has undergone many changes in practice spaces, they are flipping through adversity.
"
"We're really excited to have the opportunity to practice there and reach our goals""
— Saundra Stodden
Both of the Stodden twins have set personal goals to make it to state in different events; Saundra hopes to compete on floor and beam, two of the four different events competed in a gymnastics meet, while Ellie hopes to compete in all-around. They would also like to make it to state as a team. After an outstanding start to the season, with the team averaging 138 points per meet and winning the first two out of their three meets, they believe that the goals they have set are achievable. On Saturday, January 9th, the Raiders will be facing off against Owatonna at their home gym. Being a part of a program outside of their own community, the twins don't usually see supporters from Cannon Falls attending their competitions.  "It's fun to have fans cheering in the stands," exclaims Ellie. They wish to see some familiar faces in the stands as they face different opponents in the future, such as Austin, Faribault, and many more.