Unleashing your inner Beast
The latest hit from the box office, Beast, artfully dances the line between horror film and poaching propaganda.
Despite "King of the Jungle" being an incorrect, vaguely elitist misnomer for lions, it would be inappropriate to reduce the animals to nothing more than their Disney-fied, Hamlet-replicating counterparts. Through an ingenious opening scene, ghastly cinematographic elements, and entrancing performances from the cast, Baltasar Kormákur's newest movie, Beast, turns the rest of the box office into lunch meat while operating as an inverted allegory for poaching.
Pouncing right into action, the film begins by following a group of poachers as they massacre an entire pride of lions—almost. In a frightening display of primal brutality reminiscent of The Ghost and The Darkness, the armed team falls prey to a surviving monster lying hidden in the grass. This scene establishes a striking, inverted allegory that stalks the rest of the movie; the beast operates as the poachers do, basking in its disregard for life until the bitter end. By emphasizing this wanton mortality, Beast remains chilling to the last scene. However, before the credits roll, audiences get to meet Dr. Nate Samuels (played by Idris Elba) as well as his daughters Meredith (played by Iyana Halley) and Norah (played by Leah Sava Jeffries) as they travel to South Africa to bond after the girls' mother's death. Incognizant of the dangers that await, the family soon finds themselves in the domain of an apex predator while trying to grieve their loved one.
Overall, Beast excels at cohesion; the juxtaposition of panning and close-up shots paired well with the recurring, thematic fear that came from the protagonists being hunted. Additionally, jump cuts during suspenseful scenes paralleled the assumed, ever-present nature of the Beast. However, contrast also served the film. The actors' emotionally captivating performances were pitted against apathetic shots of the safari, stressing isolation. Dr. Nate Samuels' character also acts as a wonderful dichotomy, offering a complex take on the role of a parent in the grieving process by stressing the volatile dynamic between love and respect.
Still, "Hakuna Matata" doesn't quite apply here. The film dragged in the second act, repeating similar shots and conflict sequences. It also pushed the limits of realistic family conflict (although less so than most films) which detracted from audience investment in the characters. These grievances rear their ugly manes at the end of the film as well, stretching realism a tad too far for a horror movie.
So, while Beast claims its spot at the top of the pride through wonderfully thematic cinematography and performances, it gets snared by its middling writing. If one plans to watch it, they should Be Prepared.
About the Contributor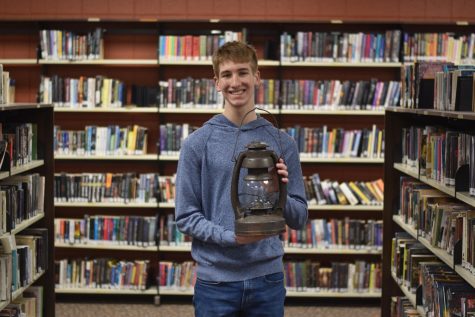 Tristin Qualey, Special Projects Editor
This is Tristin and he doesn't have the brain capacity to write a clever bio right now. Ah