Virtual Visit
Colleges are getting creative, so prospective students can get a taste of campus.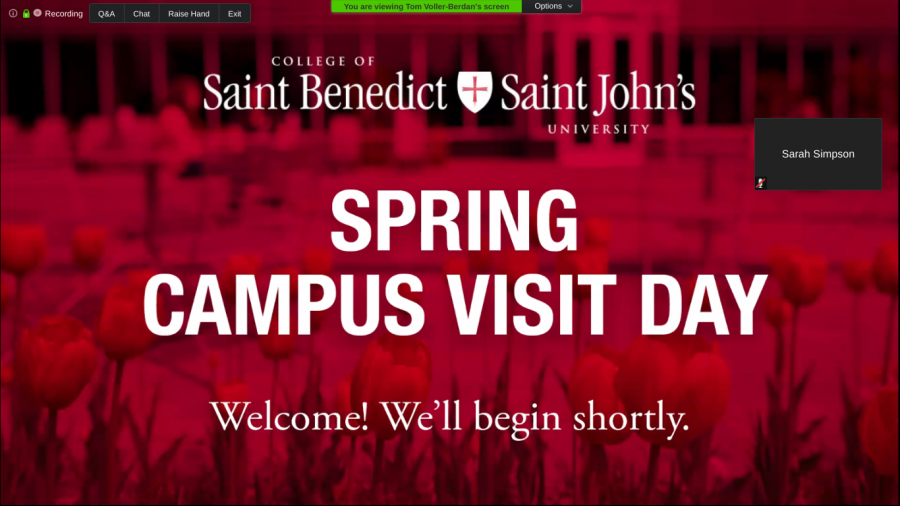 "While we certainly would have preferred to be welcoming you to our beautiful campus today (on what's turning out to be such a beautiful spring day) here in Minnesota, we're excited to give you a virtual taste of what the College of Saint Benedict and Saint John's University is all about. We look forward to the opportunity to welcome you to the campus in the near future, but, for now, I invite you to gather around the kitchen table or settle into your favorite chair and enjoy hearing from our current students and staff about what makes the College of Saint Benedict and Saint John's University such wonderful places." -Nathan Dehne
For high school juniors approaching their senior year, like me, spring and summer months are the time to begin touring prospective colleges. Of course, COVID-19 permits no such thing. So I took my first ever college tour online. It was not only my first tour, but also the College of Saint Benedict's (CSB) and Saint John's University's (SJU) first time hosting a virtual visit. On April 19, I skeptically registered for the "Spring Campus Visit Day" for April 26. When that day came, I opened my laptop and joined the Zoom event. 
The tour commenced with an optional SJU mass at 10:30am, which I did not attend due to my lack of religion, so for me, it began at noon. An introduction was given by Sarah Simpson, the Associate Director of Admissions, who listed the agenda for the tour. Next, Nathan Dehne, Vice President of Enrollment Management and Marketing, welcomed the viewers and expressed his sorrow that an on campus tour could not be offered. 
 Simpson then returned to give a presentation about the school and their admissions program by screen sharing. Viewers could still see the speaker in a smaller box during the presentation and I noticed she cleverly used the virtual background feature to set herself in front of what I presumed was a church building at the college. Though a fun feature, the image was somewhat of a sad reminder. Pictures simply can't do the scenic campus justice. it was like a sad way to pretend we were all at the college. The presentation lasted about 30 minutes, and for people who struggle to absorb information without interaction, this would not have been fun. On the other hand, Simpson was able to get quite a bit of useful information across and I believe it was a successful presentation. I jotted down notes, created a pro and con list, and took pictures of important slides. Recording the hefty load of information may have been more difficult to do if I was walking around a campus. The downside to a presentation is that I had to visualize some of the points Simpson mentioned on my own. I couldn't see students taking a shuttle bus or playing on the athletic fields like I might have been able to if I was on the campus. I think one of the most important parts of a college tour is seeing the students in their environment.
Despite the inability to see students on their campus, there was a student panel who answered questions after the presentation. There were two seniors from CSB and two seniors from SJU. Each of the students presented their stories of why they chose CSB or SJU as their college, and each of the students commented that it was how the college campus made them feel during their visits. This knowledge was just delightful since that option has been ripped from my hands. Regardless, it was nice to hear from students. They answered general questions and then used an interactive video to give a virtual tour of the campus. This ability is new to the college. It was their first time sharing it, and they have yet to add it to their website. It was like an exclusive sneak peek for the viewers. 
Another problem I had with the virtual tour were the limitations put on interaction throughout the entire event. To ask a question, viewers had to use the Q&A feature to type them out and comment on them. Because of this, viewers were still left quietly sitting on their devices, which is not all that exciting. I think to make the virtual tour much more enjoyable and possibly even more beneficial, the student panel session should operate as more of a discussion. Something needed to be changed so that viewers could feel more included. 
Being a social person, I would have enjoyed an on-campus tour infinitely more than sitting behind a screen. I think virtual tours are a great effort for colleges to draw the interest of high school students and to provide information on the college, but it just isn't enough to make the final decision. As Dehne said, We look forward to the opportunity to welcome you to the campus in the near future." And I look forward to stepping on campus for another visit soon. 
About the Contributor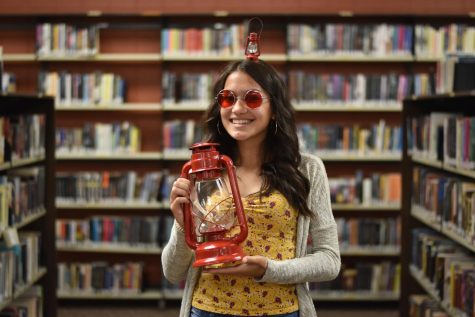 Aizlynn Thim, Editor-in-Chief
Hola me amigos, mi nombre es Aizlynn. That was my attempt at Spanish, even though I took two years of French. I am one of the Lantern's Editors-in-Chief....