We are the change
Students from various service organizations took a trip to WE Day on November eighth as a reward for their hard work.
On Wednesday, November 8 some very tired kids involved in Student Council, National Honor Society, and Interact at CFHS departed from the school at 6:50 a.m. for an exciting day at the Xcel Energy Center. Students and teachers from all over Minnesota were invited to attend WE Day for their participation in community service. As the lights slowly went down, the atmosphere started to feel different. Surrounded by thousands of other Minnesotans, the electricity of everyone's excitement for the day was heavy in the air.
To captivate the students, live music was performed by Grace Vanderwaal, the 2016 winner of America's Got Talent, and Jessie Reyez, a less commonly known artist. Although Reyez hasn't released big albums, she received two nominations for the 2017 iHeartRadio Much Music Video Awards. Motivational speakers, such as Adrianne Haslet, Lizzie Velasquez, Dr. Jacqueline Sanderlin, Mari Copeny, and many others, shared their personal success stories to inspire everyone there.
One of the most influential and motivating stories from the day was one by Adrianne Haslet. Prior to the horrific Boston Marathon attack of 2013, Adrianne was a professional ballroom dancer, who had won third in the world championships. She had decided to go watch the marathon, but little did she know her whole life would be altered for good. Her leg was blown off from the knee down during the bombing, so her only option to retain a semi-normal life was to get a prosthetic.
"
By talking about their struggles, they changed my perspective and humbled me"
— Paige Miest
Attendees of WE Day were privileged enough to hear her inspiring evolution from believing she'd never walk, let alone dance again to running and finishing the Boston Marathon three years later. Kadie Fales, one of Cannon Falls' students, said, "I for sure think she was one of the best speakers because she showed how you can continue going and not let something ruin your life." So many other students were immensely moved by her emotional story and were inspired to never give up when things look like they'll never be okay again. As Adrianne Haslet poignantly demonstrated, people can either let their difficulties control them, or they can take control of their own lives. Much like Haslet, the majority of the speakers throughout the event touched on how important it is to not give up when life seems impossible.
Another speaker, Lizzie Velasquez, went through one of the worst forms of mental abuse, but still managed to make it through with a surprising amount of positivity. Lizzie has a rare neonatal progeroid syndrome, which means it's impossible for her to gain weight no matter what she does. Because of the disease, she looks very different from what people would expect.  When she was a teenager she came across a YouTube video of herself called "World's Ugliest Woman" that already had thousands of views. The video caused her self-esteem to plummet, but instead of letting it ruin her, she chose to spread the message that people can choose to make the best out of any situation. Now Lizzie is a motivational speaker who promotes self-love and spreading kindness to everyone she speaks to.
"WE Day was an amazing experience for me because of the great motivational speakers they had," Paige Meist, a junior in NHS, stated, "There were people who showed me how great we all have it with how much support our family and friends give us. By talking about their struggles, they changed my perspective and humbled me." Attending WE Day lit the spark for thousands of students to be the change in their local and global communities. People who were lucky enough to go to the event will forever be changed for the better.
About the Contributor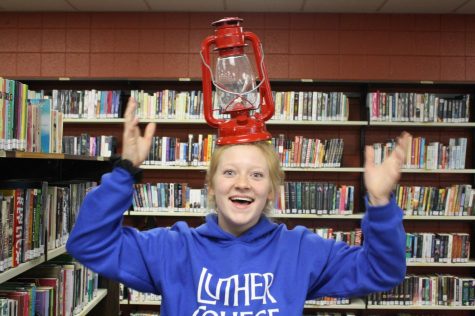 Laurie Miller, A&E co-editor
Laurie is a senior this year. She is a part of the Bomber tennis team and Northfield Raider gymnastics team. When she is not busying doing her infinite...