Women in History
March is Women's History Month so people have been recognizing the women that have made history. There are many important women who have made big impacts in the world. Some of them haven't always gotten the recognition they deserve; that's why it's great to learn more about them. 
Since March is Women's History Month, the 6th graders at CFMS made a project about a few women in history. The students worked with a partner and researched the women that they were assigned to study. The project tells about their origin story, their accomplishments, pivotal moments in their life, and who they were. They included words that the woman said and two words that describe her. The project also has cartoon pictures of the women. Some of the women they wrote about were Ruth Bader Ginsburg, Malala Yousafzai, Simone Biles, Jane Goodall, Elizabeth Cady Stanton, and Sally Ride.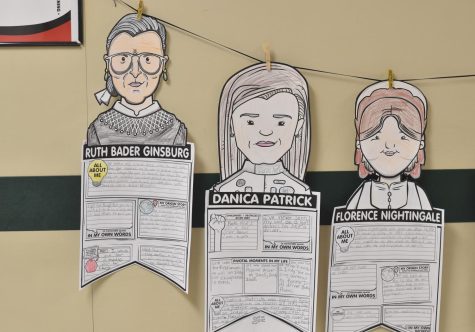 Ms. Klapperich, the leader of this project, is a sixth grade Minnesota studies teacher who has been teaching at Cannon Falls for 26 years. She even helped write the sixth grade Minnesota textbook. She got the idea for this project from another educator. Because March is Women's History month, she wanted to do something to recognize women that have made an impact. When asked why this was so important to her, she said "Women are the caretakers of the world. Throughout time women have not always gotten the respect and appreciation they deserve." Malala Yousafzai is one of her favorite women in history. When Malala was fifteen she was shot in the head while riding the bus home from school after speaking out against the Taliban. Malala is an activist for female education.  
One 6th grader was asked to talk about her project. Alyssa Burgess did her project on Coco Chanel. Chanel was a French fashion designer and businesswoman who launched her first perfume in the 1920s. Burgess said that she loved doing this project because it was educational and fun. She asserted "This meant a lot for me to learn more about all the women that made history. It was such a fun project to do and learn more about women history month."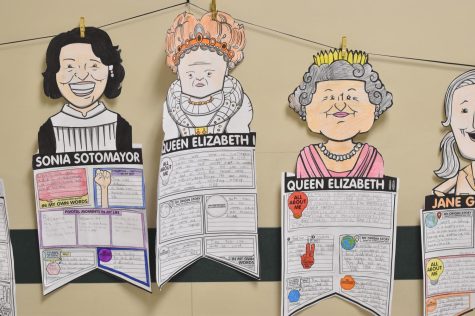 This project took the 6th graders one class period to complete. Each group got 90 minutes to find out a little bit about some of the famous women in the world. Each of the groups randomly selected a woman to learn about. Some information they had to search for were their person's challenges and obstacles, where they grew up, and pivotal moments in their lives.
All the sixth graders participated in this project and they focused on the basics to make it easy to read in the hallway. It was a fun project and Ms. Klapperich and the students enjoyed it. 
Thirty-two of the millions of amazing women who have graced our planet were chosen for this project. The project was a powerful way to pay respect to Women's History Month, hopefully shedding some light on the impact that women make every day.
***This article is submitted to the Best of SNO Middle School section