Wrapping up clothing for the holidays
One of Cannon Falls High School's charity events, the Giving Tree, has concluded.
With snow days, or BOLD days, coming nearly every week, it feels as though this winter will be everlasting. However, one of the school's popular winter events has come to a close: the Student Council's annual Giving Tree drive, and the results have been very positive.
This year's drive was done to support the charity DAV MN. The DAV foundation works to help veterans in the state of Minnesota obtain the healthcare, disability support, employment, education, and financial benefits earned through their military service. The Student Council decides on a different charity every year to support. Sara Auger, treasurer for the Student Council, explained why they chose DAV this year: "When we discovered DAV, we all agreed immediately, since their mission to help veterans in Minnesota was important to us all." The Student Council was also interested in DAV as it is a local organization out of Apple Valley. 
To support the organization, clothes were gathered and donated to the organization, who, in turn, sells the clothing for funds to support their mission. The collection ran from December 19th through January 13th, with the organization coming to pick up the items on January 20th. In the three weeks, the amount gathered far exceeded the Student Council's expectations. Nathan Bazuro, president of the Student Council, stated, "This year the Giving Tree did great, especially compared to last year. I'd say we got six times as much stuff from the year prior." This year's great success may seem like a straightforward operation on the surface  — they just had to put out a couple of collection bins and keep them out for 3 weeks — however, Auger explains that such a long event takes a little bit more work to make it successful: "We have to set up the donation locations, communicate with our organization, and collect and organize all the donations. It isn't a ton of work but it runs for a long time." Maintaining the event over the three weeks allowed for such a large amount of donations. 
The effort put into this year's Giving Tree drive by Student Council certainly paid off. The dedication helped a very deserving cause in DAV which supports veterans. There is no doubt that this is a cause people can get behind, which was clearly shown in the event's success, success that will hopefully continue for next year's Giving Tree event.
About the Writer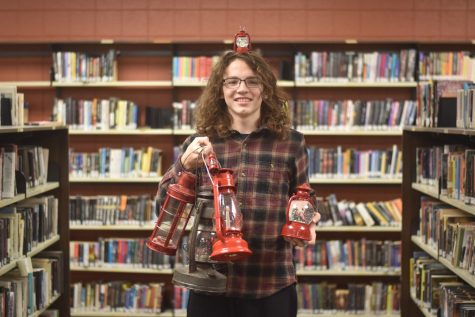 Thomas Coyle, Staff Writer
iH ym eman si samohT elyoC I joyne gnitirw drawkcab ni ym eerf emit. I ma devlovni ni ynam tnereffid seitivitca hcus sa eugaelhtam, reccos, scitobor, hceeps,...