A twister to remember
After a devastaing storm tore through Cannon Falls, the Lantern records the damage and clean up efforts.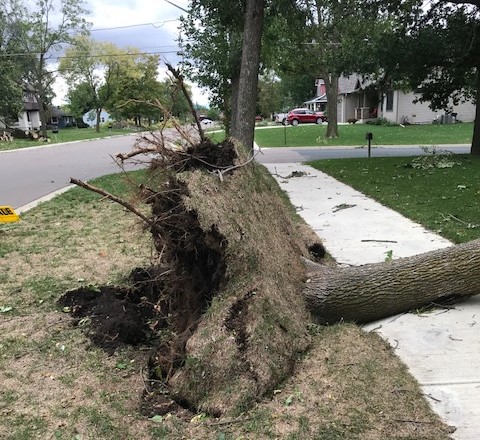 Hang on for a minute...we're trying to find some more stories you might like.
All of Cannon Falls woke up on Thursday morning of September 20th expecting yet another typical weekday. Little did they know, their lives would be turned upside down- literally- later that evening. At approximately 7pm, a destructive storm and several tornadoes tore through southern Minnesota hitting a number of towns- including Cannon Falls.
"
The residents of Twin Rivers were forced to evacuate"
Hunkered down in basements for nearly an hour, people were eager to see what had happened above ground. Once they had taken the first glance outside, they realized it was worse than they had feared. Trees were either tilted, fallen, or split, countless power lines were on the ground, some houses lost shingles or sustained damage, and power was out for over a thousand people. The following weekend was full of chainsaws, trips to the compost site, and helping anyone and everyone.
After losing power later in the night, the residents of Twin Rivers were forced to evacuate. Working closely with law enforcement, the fire department, and other groups, Ms.Giese was able to carry out the two evacuations quite smoothly. "Our plan was extremely successful," she stated " We had many students here helping to set up over 100 cots brought in by the Red Cross."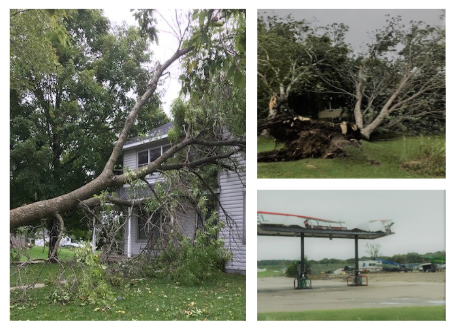 Lindy Edstrom

The day following the storm Ms.Giese was informed that the fieldhouse would be used as a triage center for any citizens or organizations that would need it. Despite only running on a single generator, the center acted as a launching point for the relief effort. "So many staff members brought water and snacks for the people that were stranded at our field house. Dave Petersen and the custodial crew were remarkable and everything that they were able to do to help our small town." Working swiftly, crews began cleaning up the center of town, meanwhile, residents on the outskirts of Cannon Falls began their own cleanup.
On the countryside of Cannon Falls, the hardest hit areas were near Dennison, Lake Byllesby, and the northern and southern ends of town. Living in the same area- south of Cannon Falls towards Dennison- seniors, Seth Degroot and Kendric Banks, experienced the storm and cleanup first hand.
Along with the rest of the town, these two Cannon Falls seniors got right to work the following morning by cleaning up trees and branches with chainsaws and skid loaders. With thousands of trees cleared, it may be hard to imagine where they all went. All weekend and even weeks after, trailers were hauled through town to the "dumps" or Archie Swenson baseball fields where the compost site it located. Due to the overflow of the first compost site, a secondary one was opened to accomodate all of the debris.
As mentioned, people in Cannon Falls and surrounding areas were more than willing to help with the storm cleanup. Kendric said he had family and friends who dedicated several hours into cleaning up his own home. Being members of the boys soccer team who aided in the cleanup effort, Seth and Kendric took time out of their weekend to go around town helping those who needed it with the boys soccer team.
"
It was crazy to see how many people sprung to action"
— Seth DeGroot
When asked about cleaning up, Seth said, " There was a crazy amount of destruction in my neighborhood, so I was out helping neighbors for the majority of Friday and Saturday. I helped with cutting up trees/brush and with carrying the brush to the fire or a truck. It was crazy to see how many people sprung to action. I went to three different houses on Friday and there were at least 5 people helping at each house (not including my group)."
Kendric stated, "I thought it was awesome and really encouraging how many people I saw from different towns who came and helped people in need and the amount of people from our own town that helped their neighbors even if they didn't know them."
"
I have never been so proud of the staff, students, and the city of Cannon Falls"
— Beth Giese
Ms.Giese concludes, "I have never been so proud of the staff, students, and the city of Cannon Falls," she stated "the response we received to the storms has been overwhelming; we have had our local police, fire department, and numerous other groups that have all come in to help."
Two weeks after the tornado, the sound of ripping chainsaws can still be heard. Trees still lay uprooted in local cemeteries and many familiar sights have been forever changed. The storm and tornado are long gone, but the wounds still lay open. With the amount of aid that has been poured into this small town of just 4,000 people, it appears that the wounds are beginning to heal, leaving behind a town united through the devastation.