Christmas Toolkit
December 21, 2017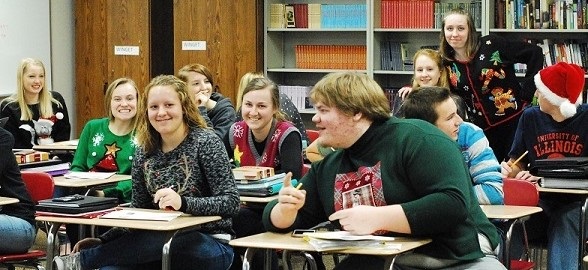 Tips to help sleigh this holiday season
The Lantern provides some helpful tips on how to avoid stress this holiday season.
Are you feeling more holiday stress than holiday cheer? Well, don't give up because I've got the solution – keep reading this article to find out how these tips can save your Christmas.
One of the biggest problems people face is worrying about overeating. However, the holidays are simply not the right time for that. Put dieting on pause. Enjoy those sugar-filled Christmas cookies during the holiday. Eat all the chocolate truffles in the box, but make sure to savor the flavor by eating slowly. But on the other hand the weight that somehow managed to pack on in a matter of days will fall off once the normal eating habits return. Save getting into shape for after the new year – problem solved
The next tip would be to get your beauty rest. Most families are probably waking up on Christmas morning around 6 a.m. But sleeping in prevents Christmas day from starting to feel long. Most people would much rather have a non grouchy family member on the holidays.
In order to enjoy the holidays to the fullest, don't take the free time for granted. Fill that time with festive activities or meaningful down time. This is the only time where most high schoolers don't have time wasting, long assignments. It goes by fast, so just spend it wisely.
The last tip is to plan for next year's Christmas after this one is done. Everything is hugely discounted as soon as the 26th rolls around, so stock up and save money. Also to save money on wrapping paper, once everyone is done unwrapping their gifts, grab all the used tissue paper and wrapping paper then just use that next year. Just make sure to tell your relatives to not open their presents up like a mad gorilla. Overall, I think the holidays shouldn't be stressful. So just make sure to spend it with your loving family because it only comes once a year.