Second Harvest Heartland
Interact students volunteer to help package items at Second Harvest Heartland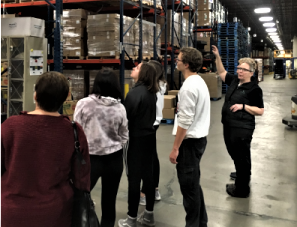 Hang on for a minute...we're trying to find some more stories you might like.
On January 9th the Cannon Falls Interact group sent five individuals to help package items at Second Harvest Heartland. While there were originally twenty or more students that signed up, the five that went were the only ones who turned in their permission slips. So with the five helpful students clustered in the back, the bus took off for Mendota Heights, where the facility is located.
Upon arrival, the group was met instantly with warm faces. The staff was a little shaken when the full group didn't show up, but they adapted and it all worked out in the end. Prior to packing, the students sat through a brief video on the mission of Second Harvest and safety when working on the line. After that, they got busy.
Each student, and a few extra workers, was assigned to do one specific task that they performed for the entire hour of volunteering. The tasks were simple. One person folded and taped the boxes, then sent it down the line where the rest of the workers placed their items. The boxes were packed with canned goods, drinks, and other essential products that families in need could utilize.
Not only was this a fulfilling experience, it was also an enjoyable one. Xander Weinrich, a Junior, stated,  "I've always really liked having a good time with friends, and I feel that volunteering is the perfect outlet for it." Along with that, he commented, "It's really a win-win situation, and with all the guys in interact there it was a blast."
"
Walking through the warehouse was crazy. There was so much food. It was honestly a little scary to see"
— Xander Weinrich
At the end, the group had packaged 8 pallets worth of food, only 3 less than they would do with a larger group. Despite this, the workers were still grateful for the help of the students, so much so that they gave them a tour of the facility. As the students went through the warehouse, it became apparent just how big the group they were helping was. Shelves were stacked three stories high, with some looking as if they were ready to tip off the shelves. Weinrich stated, "Walking through the warehouse was crazy. There was so much food. It was honestly a little scary to see."  
Despite the low numbers of volunteers the group of Interact students still took on the challenge wholeheartedly. With the help of a few extra volunteers at the organization, the group was able to impact thousands of lives around Minnesota. In Weinrich's final comment he stated, "I would do it again in a heartbeat."