The Nun
With Halloween around the corner, the Lantern reviews thriller, The Nun.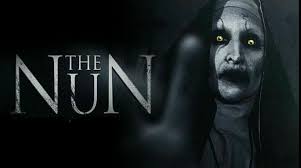 Hang on for a minute...we're trying to find some more stories you might like.
The Conjuring and Annabelle fans have been anxiously waiting for this moment. Those who live to be scared out of their wits are pleasantly satisfied with the release of The Nun, a spin-off of the Conjuring. The Conjuring Universe series are a set of American Horror films produced by New Line Cinema. In the series, The Nun is the first story to occur, which sets the theme for the rest of the movies. Nuns have always given me the creeps and this movie has definitely reassured my fear of them. For instance, they recite bible verses and prayers in the movie that don't even protect them. However, this defeats the whole point since they're nuns and they shouldn't be able to be defeated by demons in the first place.
Set in a 1952 Romanian abbey (Corvin Castle), this film has a very daunting and sinister feel to it, giving the perfect horrific touch to keep viewers on their toes. The story begins with a petrified nun taking her own life after fleeing from a demonic attacker. She enters a tunnel where she planned on retrieving some sort of ancient Catholic relic. Frenchie (Jonas Bloquet), a villager in the area, discovers the nun's body hanging from the church and calls a priest (Demián Bichir) and Sister Irene (Taissa Farmiga), a nun in novitiate (training to become a real nun), to investigate the paranormal occurrences. Father Burke and Sister Irene explore the eerie abbey's hallways, discovering the truths behind the other nuns and their histories. This movie's captivating soundtrack alone is enough to keep its viewers up all night.
"
Sweet sisters know how to display their talent in an unforgettable way"
— Mari Mendivil
What's always fascinated me about horror movies is the power they have over viewers. They can keep people up all night in entangled their own imagination. The actors in this film did an exceptional job with creating a frightening film and really pulled off tying it to the rest of the Conjuring Universe. Taissa Farmiga (sister Irene in the film) really has a talent for the genre. The actress is mainly known for her big role in the show American Horror Story. Her older sister Vera Farmiga takes on a key role in the Conjuring Universe as well. These sweet sisters know how to display their talent in an unforgettable way. After watching this film, you won't be able to forget the menacing face and bright yellow eyes of the demonic nun.