Age: just a number
Longtime Cannon Falls teacher, John Fogarty, starts a new class after 51 years.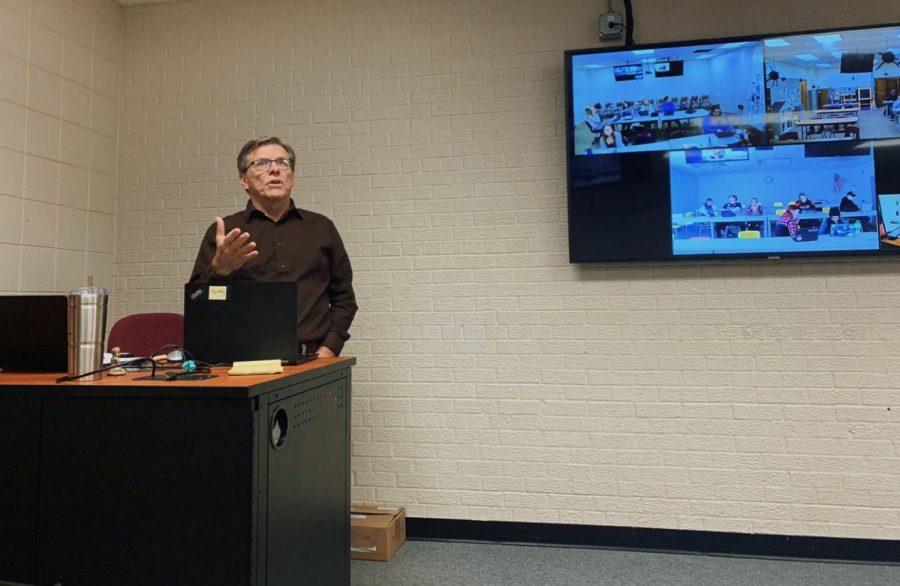 "Fog preordered the bible." "Michelangelo was inspired by Fog's work." "Fog took drivers ed from Fred Flinstone." Although somewhat harsh, all of these humorous quotes from the Fogthesarus, which was written and edited by Cannon Falls High School (CFHS) students in 2014, remains taped to John Fogarty's office door. The Fogthesarus has evolved over the past five years, with students scribbling in more and more commentary. Putting all age jokes aside, Fogarty, continues bringing youthful energy to classrooms even after 51 years of teaching. 
Despite currently having a bachelor's degree in both English and speech communication from St John's University, a master's degree in speech communication from the University of Minnesota, and another 45 credits from other courses he's taken, Fogarty originally didn't foresee teaching in his future. When the longtime teacher started college at St. John's University, he figured getting into business was a fairly feasible option that would provide a steady income. However, some reevaluations on his childhood financial situations and his greatest passions forced him to have a life-altering epiphany. Fogarty admitted, "I loved working with kids. I loved doing speech. I loved English. I thought it would be cool to be able to do that for the rest of my life." 
"
I realized I could get to know pretty much everybody here and not be in a gigantic factory kind of school"
— John Fogarty
Fresh out of college, Fogarty jumped into the world of teaching bright eyed and bushy tailed, landing two very different interviews in 1968—one in Eden Prairie, the other in Cannon Falls. Fogarty fell in love with Cannon Falls right from the get-go. "I realized I could get to know pretty much everybody here and not be in a gigantic factory kind of school," Fogarty shared. After accepting the job offer, the effervescent educator took a trip to the American school in Taipei, Taiwan in 1999 for a teaching opportunity. Once he returned to the U.S. in 2003, Fogarty believed he had become a better teacher. Today, Fogarty's enthusiasm still hasn't faltered. 
Even though technology has taken over high school classrooms, Fogarty maintains that teaching fundamentals have remained the same. "The core element of teaching, which is to bond with kids, make sure they understand the world around them, make sure they understand what the world around them is like, and how to succeed in it hasn't changed," Fogarty commented. His passion for teaching led the spry CFHS Advanced Placement (AP) Language and Composition teacher, school newspaper advisor, and assistant speech coach to tackle something new—an Interactive Television (ITV) journalism one class. 
Through the television, aspiring journalists from Zumbrota-Mazeppa, Goodhue, and Kenyon-Wanamingo engage in Fogarty's lectures on the First Amendment, grammar, and the need for journalism today. Under Fogarty's direction, the 22 students have produced their very own online high school newspaper, The Merge. Madelyn Fitzgibbons, EIC of The Merge, maintains that, "Mr. Fogarty is very attentive and truly wants each of his students to be the best they can be. He challenges us to reach our full potential as writers while doing his best to help us in any way he can along the way." Fogarty's colleagues couldn't agree more with Fitzgibbons. "He's the exact opposite of media or societal stereotypes of a veteran teacher," Cal Vandehoef, the co-head speech coach and Cannon Falls English teacher stressed. Former CFHS student of Fogarty, co-head speech coach, and Cannon Falls English teacher, Holly Winget expressed, "He's always trying new things. When he gets into something, he goes wholeheartedly into it." 
"
He's the exact opposite of media or societal stereotypes of a veteran teacher"
— Cal Vandehoef
After 51 years of teaching, Fogarty continues to prove that his age doesn't matter. Instead, his love for inspiring others does."I absolutely cannot see myself sitting at home, searching for things to do. I think that I tend to stay a little younger by hanging out with younger people," Fogarty concluded. Whether it be side comments or through the Fogthesaurus, students will keep giving Fogarty a hard time about his age. However, with Fogarty's energy and immense amount of knowledge, CFHS is truly lucky to have him.
About the Contributor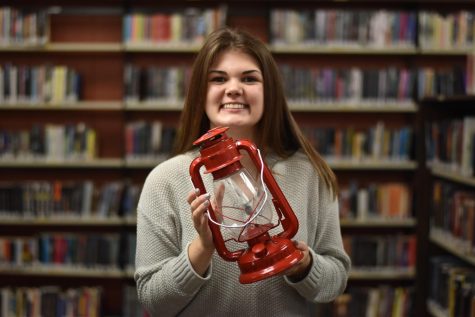 Emma Conway, Editor-in-Chief
Emma Conway is a senior Editor-in-Chief for The Lantern. As a Yearbook Editor, Speech Captain, Student School Board Representative, MHS Historian, and...