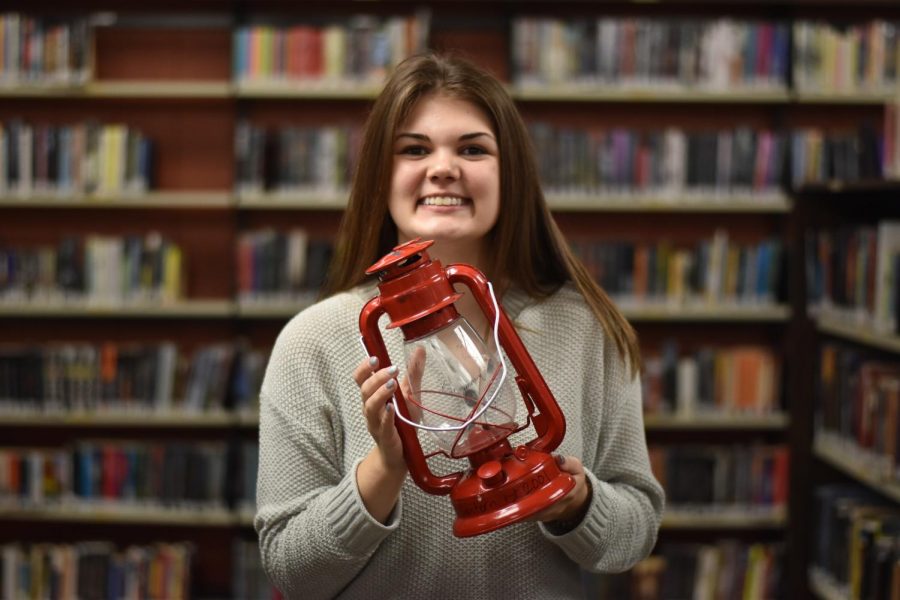 Emma Conway is a senior Editor-in-Chief for
The Lantern.
As a Yearbook Editor, Speech Captain, Student School Board Representative, MHS Historian, and member of Student Council, Emma likes to stay active within Cannon Falls High School. Her favorite thing to write is feature stories because silent heroes can be put in the spotlight. Outside of school, she loves eating french toast, watching
Friends
, and cheering on her friends at sporting events.
Emma Conway, Editor-in-Chief
May 22, 2020

Look Forward

(Story/Media)

Apr 29, 2020

To infinity and beyond

(Story)

Apr 24, 2020

All-star athletes

(Story)

Apr 16, 2020

Rockin' around the neighborhood

(Story/Media)

Apr 16, 2020

Ahead of the learning curve

(Story)

Apr 16, 2020

Country Nights rescheduled

(Story)

Apr 08, 2020

College campuses go dark

(Story)

Apr 03, 2020

Recent Governor Walz updates

(Story/Media)

Apr 02, 2020

Here, there, everywhere

(Story/Media)

Apr 01, 2020

Essentially exceptional

(Story)

Mar 26, 2020

Dark times; light measures

(Story)

Mar 25, 2020

Stay at home executive order set

(Story/Media)

Mar 23, 2020

Four new executive orders put in place

(Story/Media)

Mar 20, 2020

New press conference leaves several questions unanswered

(Story/Media)

Mar 19, 2020

Collating COVID 19

(Story/Media)

Mar 19, 2020

To that I say thank you

(Story)

Mar 16, 2020

Minnesota's businesses are ordered to close (6:45 PM 3/16/20)

(Story/Media)

Mar 15, 2020

Statewide school closures due to COVID-19

(Story/Media)

Mar 04, 2020
Feb 26, 2020
Jan 28, 2020
Dec 05, 2019

Turning 100

(Story/Media)

Dec 05, 2019
Nov 20, 2019

Age: just a number

(Story/Media)

Nov 06, 2019
Oct 08, 2019

The best of both worlds

(Story)

Sep 27, 2019

How to survive and thrive senior year

(Story)

May 24, 2019

You've GOAT to be kidding me

(Story)

May 14, 2019

All-State speakers

(Story)

May 10, 2019

Maack-ing her way around the world

(Media)

Apr 05, 2019

Talking about tattoos

(Media)

Mar 29, 2019

Words are a choice

(Story)

Mar 08, 2019

Sisters on the march

(Story)

Feb 12, 2019
Feb 08, 2019

Juul-venile detention

(Story)

Feb 05, 2019

Montgomery for Cannon Falls

(Story)

Jan 18, 2019

The ugliest, most beautiful thing I have ever done

(Story)

Dec 06, 2018

Speaking of speech

(Story)

Nov 30, 2018

Creating college confidence

(Story)

Nov 16, 2018

Home away from home

(Story)

Nov 07, 2018

The Broadway's Hamilton

(Story/Media)

Nov 01, 2018
May 21, 2018

Young and bedazzled

(Story)

Feb 06, 2018

More than a symbol

(Story)

Jan 05, 2018

Christmas cookies

(Story/Media)

Jan 05, 2018
Oct 03, 2017