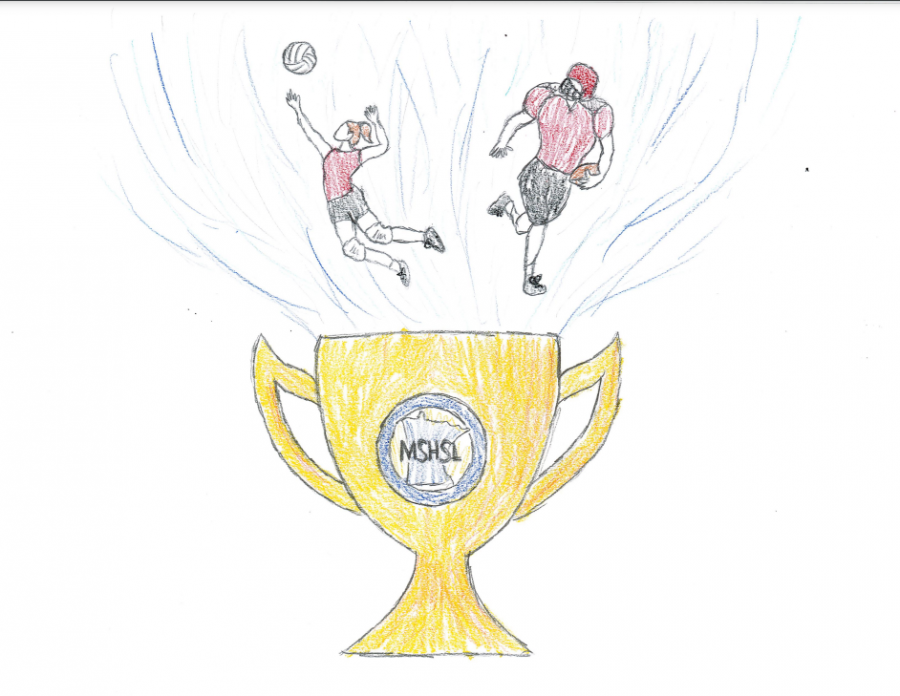 Postseason prospects
The Cannon Falls Football and Volleyball teams are both beginning playoffs ranked number one.
October 28, 2021
This season, the Football and Volleyball teams are doing better than ever. Both teams are ranked number one heading into the postseason. This is a monumental achievement for Cannon Falls. Never before has both the Football and Volleyball teams been ranked so high entering their postseason matches. Volleyball's first playoff game is this Thursday, October 28th in the High School Gym. Football's first playoff game is this Saturday, October 30th at John Burch Park. Both teams would appreciate your support and would love to see large crowds at these exciting events.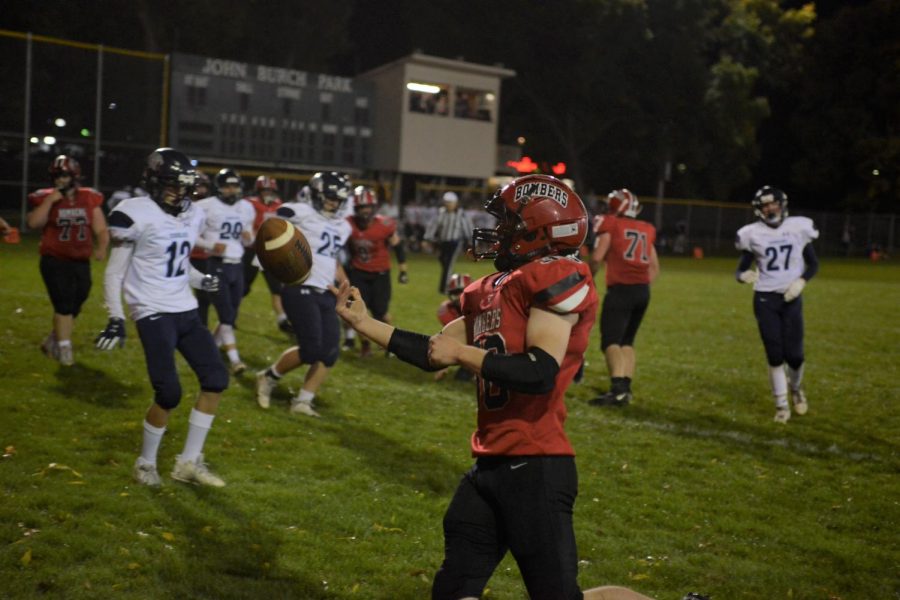 Playoff football
The Bomber football team completed their regular season on a high note last Friday after they beat, at the time, the No. 1 ranked team, Lake City, 74-38. Their overall record tallied up to be 7-1, with a Southeast conference record of 4-0, crowning them the conference champions. The Bombers were also seeded number one‒for the first time since 1996‒in their section for playoffs and earned a first-round bye. 
Their season began on August 16, which was later followed by their first game on September 3, resulting in a non-conference win against St. Charles. The Bombers also pulled through with wins against Lourdes, Pine Island, Zumbrota-Mazeppa, La Crescent, Plainview-Elgin-Millville, and Lake City. They lost against Chatfield in a non-conference matchup on October 2.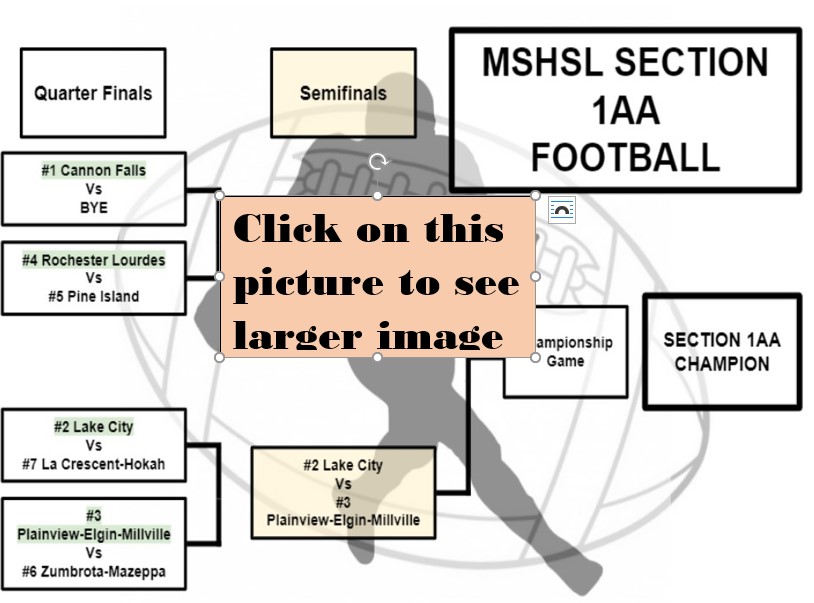 The Minnesota Football Hub Rankings have the Bombers ranked number two in AAA, behind Dassel-Cokato, who is undefeated so far this season. Senior captain, Colton Loeschke, mentioned, "we have been saying all year that the rankings do not matter. We do not like to give it too much attention, we just do our thing regardless of what others think of us." 
To prepare for the post-season playoffs, Loeschke says that the team does not necessarily need to work on a certain aspect of the game, but instead, continue to improve what already makes them good. The little improvements may help them achieve the post-season goal they have had over the past few years: play in the State Tournament at the US Bank Stadium. The Bombers have been close a few times, but never attained it. Loeschke describes that the team's mentality has not changed and they intend on obtaining their goal this season. 
Because the Bombers have a bye in the first round, they will only need to win two games to advance onto the State Tournament. Their first game is on Saturday, October 30 at 7 p.m., against the winner of the matchup between the number four ranked team, Lourdes, or the number five ranked team, Pine Island. If they win, they will play on November 5 at 7 p.m. 
Loeschke and his team do not know exactly who they will be playing for their playoffs games at the moment, but Loeschke says that "we expect a rematch against Lake City, which should be another great game." If this match takes place in the near future, both teams will be able to fix their game plans against one another. Loeschke believes, "they will be looking for revenge." 
The Bomber football team has done a really great job with facing adversity and grinding down their opponents, Loeschke expressed. "We go into the game with the mentality that we are here to grind all four quarters." They are ready to get the show on the road and do just that.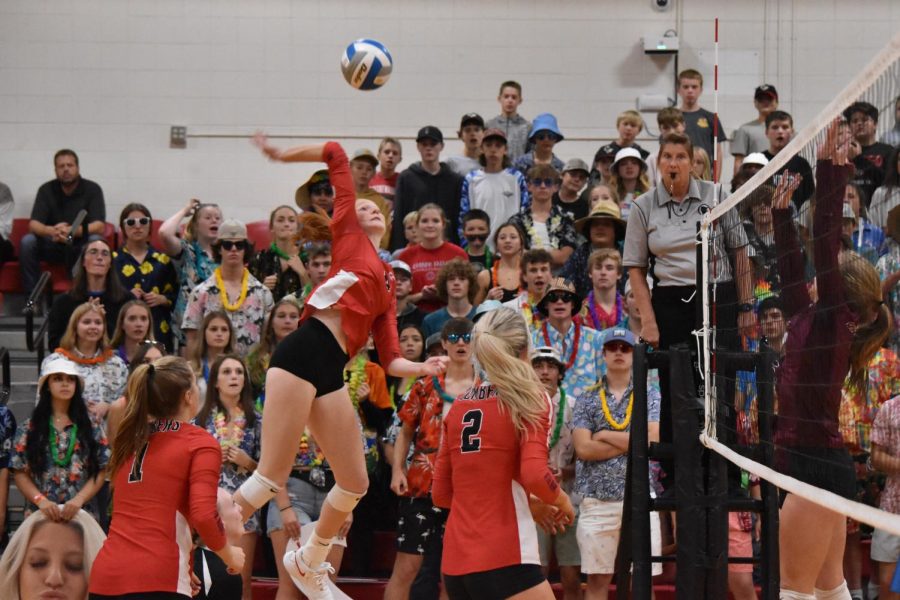 Playoff volleyball
The Bomber volleyball team finished their regular season on a five-game winning streak and recorded an overall record of 24-5 and a conference record of 6-2. Not only were the Bombers ranked number three in the Minnesota Volleyball Hub Rankings, but they were also seeded number one in Section 1AA‒for the first time ever. 
"We have never been ranked number one," says Melissa Huseth, varsity volleyball coach. "But then, this is also the first year of a 4-class system," she explained. In previous seasons, the Bombers would have to face stronger volleyball programs, like Stewartville and Kasson-Mantorville, to make it to state. Now, those schools have moved up a class, and left the Bombers' section, paving the way for a chance at a first-time state appearance. 
But, being ranked number one doesn't mean the Bombers won't come across tough competition. Zumbrota-Mazeppa, who the Bombers lost to earlier in the season, was ranked number two. Huseth mentions that other strong teams will include Caledonia, Lake City, and Chatfield, but nothing unmanageable for Cannon Falls. Huseth mentioned, "this is the year with Kasson and Stewartville out of our section, it is wide open to anyone for the taking."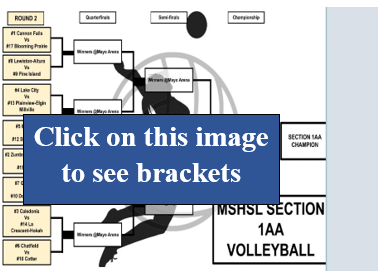 The volleyball team will get 3 practices before their first playoff game. Huseth plans on using her allotted practice time well, but she always pushes the phrase "quality over quantity." The coach shared that the key to beating teams like Zumbrota-Mazeppa is defense. She emphasized, "we will need to block and play defense in our correct spots." According to Huseth, preparing their attack, cleaning up their block, serving aggressively, and working on out-of-systems (running an offense without a setter) will all be a part of the team's practices. "We will need to be focused, disciplined, and have the ability to reduce our errors," she stressed.
The Bombers' first playoff game will be Thursday, October 28, at home. They will face the winner of the Lourdes vs. Blooming Prairie game. The Bombers would have to win three more games at the Mayo Civic Center to find themselves in the State Tournament (November 10-13) at the Xcel Energy Center.
"All teams will be hungry for a state run," Huseth stated. She insisted that the Bombers have the tools and the players they need to reach the big stage. "The opportunity is there, but we will need to battle to take it," she finished